Recipes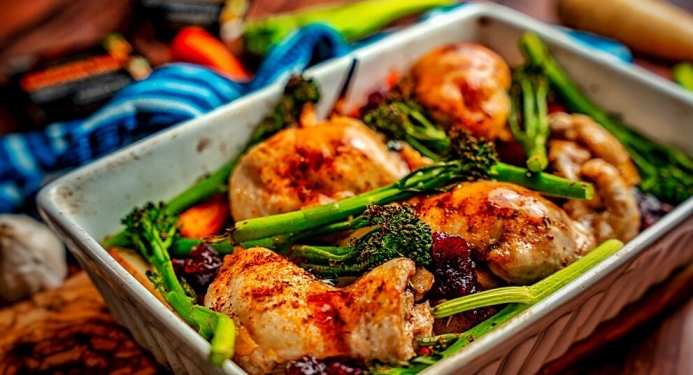 Roast Chicken Traybake
Prep: 5 mins
Cooking: 75 mins
Total: 80 mins
Serves: 4
Per serving: 510 kcal
A simplified roast dinner with just as much flavour and a lot less washing up – what's not to love! Made with both our Perfect Roast Potatoes and Chicken Rub.
Method
STEP 1:
Coat the chicken thighs in our Chicken Rub and set aside.
STEP 2:
Parboil your potatoes for 3 minutes.
STEP 3:
Drain and shake well. Spray with low calorie cooking spray and sprinkle over the Perfect Roast Potatoes kit until well coated.
STEP 4:
Transfer to a large, oven-proof dish. Add the carrots, parsnips and garlic cloves, spray with more low calorie cooking spray and bake at 200° for 30 minutes, shaking halfway through.
STEP 5:
Score the chicken thighs horizontally and place on top of the vegetables. Add more low calorie cooking spray and put back in the oven for a further 20 minutes.
STEP 6:
Add the broccoli to the tray and bake for a further 10-15 minutes, until the chicken has cooked through and vegetables are soft.
STEP 7:
Spoon over the cranberry sauce, pour over the gravy (optional) and serve.

ENJOY!!!