Recipes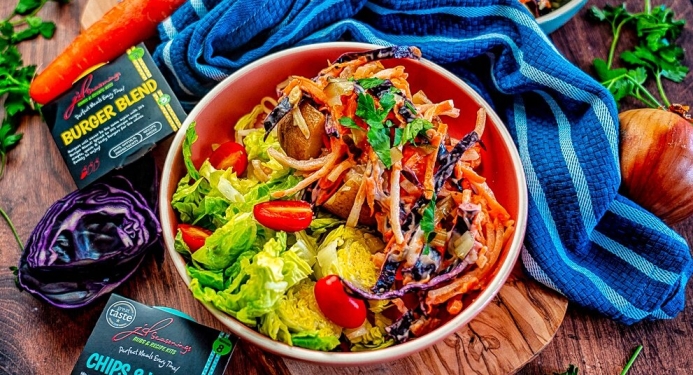 Burger Slaw Baked Potatoes
Prep: 10 mins
Cooking: 60 mins
Total: 70 mins
Serves: 4
Per serving: 379 kcal
Our healthy twist on classic coleslaw makes a perfect combination for your next jacket potato topping! Made with our Burger Blend, this makes a great side by itself, but can take a baked potato to the next level.
Ingredients
2 x Carrots, grated or thinly sliced
1/2x Red cabbage, thinly sliced1 x Brown onion, thinly sliced
3 x Tbsp light mayonnaise
3 x Tbsp reduced fat salad cream
4 x Baking potatoes
60g Reduced fat grated cheddar
Gherkins (to taste)
Method
STEP 1:
Prick your baked potatoes with a fork, spritz with low calorie cooking spray and coat with JD Seasonings Chips & Wedges Rub, before oven baking at 180° for around an hour, until crispy on the outside.
STEP 2:
Combine your carrots, red cabbage, onion, 1/2 a pot of JD Seasonings Burger Blend, light mayonnaise, reduced fat salad cream and gherkins in a bowl and mix well.
STEP 3:
Top your cooked potato with the burger slaw and cheddar, and serve with a green salad.