Recipes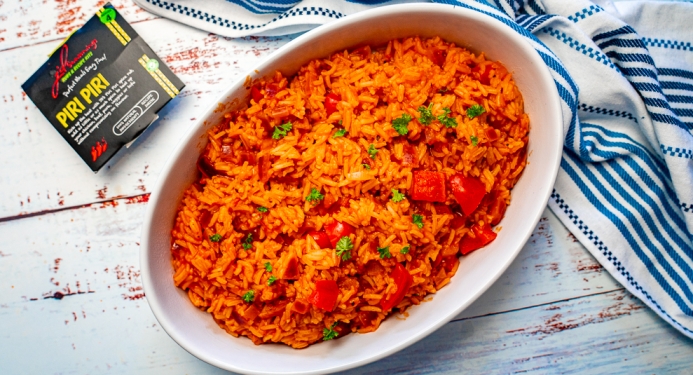 Piri Piri Rice
Prep: 10 mins
Cooking: 35 mins
Total: 45 mins
Serves: 4
Per serving: 295 kcal
Spice things up with this tasty Piri Piri rice. You can swap out the vegetables for whatever is in your fridge and serve with a big salad and halloumi, or protein of your choice! Our Piri Piri kit makes adding flavour so easy.
Ingredients
1 x Pot of JD Seasonings Piri Piri
260g Long grain rice
1 x Pepper, diced
1 x Red onion, diced
1 Litre vegetable stock
2 x Garlic cloves, crushed
400g Passata
Parsley (optional)
Low Calorie Cooking Spray
Method
STEP 1:
Fry the onion and garlic in low calorie cooking spray for 5 minutes, until softened.
STEP 2:
Add the pepper and fry for another 3-5 minutes.
STEP 3:
Add in the rice and Piri Piri kit and mix well until all the grains and vegetables are coated.
STEP 4:
Add the passata and vegetable stock until the rice is coated and cook for 20-30 minutes, until cooked. Add more stock if needed and stir regularly to avoid the rice sticking to the bottom of the pan.
STEP 5:
Serve with a sprinkle of parsley.

ENJOY!!!