Recipes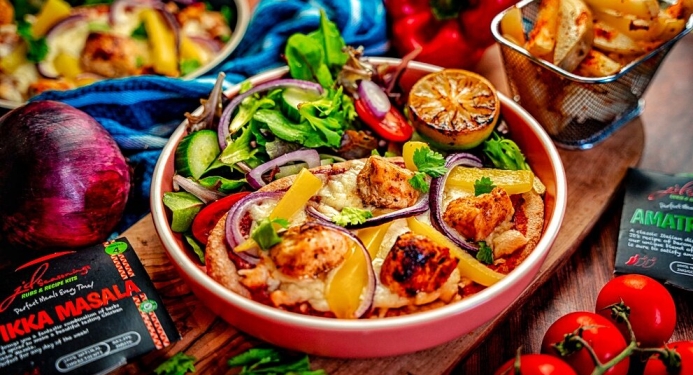 Chicken Tikka Pitta Pizza
Prep: 35 mins
Cooking: 15 mins
Total: 50 mins
Serves: 4
Per serving: 427 kcal
For your next fakeaway, these tasty Chicken Tikka Pitta Pizzas are a must-try! Made with our Tikka Masala and Amatriciana Kits, these pair wonderfully with chips made with our Bombay Potatoes kit!
Method
STEP 1:
Mix the yoghurt, lime juice and Tikka Masala kit and coat your chicken. Marinate in the fridge for at least 30 minutes.
STEP 2:
Combine the tomato puree and Amatriciana Kit to make your pizza sauce.
STEP 3:
Load the chicken onto skewers and grill for around 15 minutes, turning regularly, until cooked through.
STEP 4:
Spread a thin layer of the sauce over each of your pitta breads.
STEP 5:
Top with the mozzarella, peppers, chicken, and onion. Add a few dollops of the mango chutney onto each pizza.
STEP 6:
Bake for 10-15 minutes at 180°, until the cheese has melted.
ENJOY!!