Recipes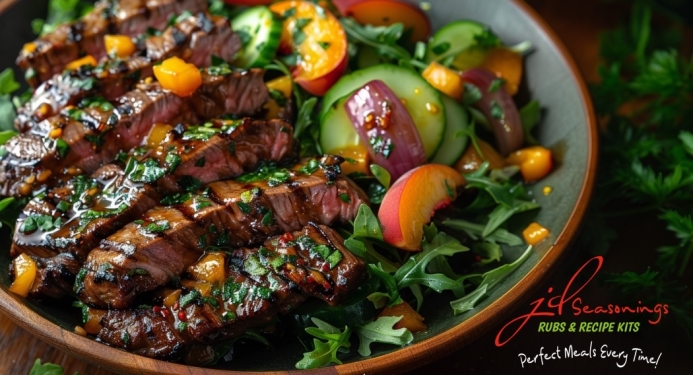 Balsamic Steak & Peach Salad
Prep: 10 mins
Cooking: 20 mins
Total: 30 mins
Serves: 4
Per serving: 304 kcal
This sweet & savoury combination is heavenly, and the perfect level of light lunch for summer, made with our award-winning Steak Rub!
Ingredients
1/2 x Pot of JD Seasonings Steak Rub
2 x Rump steak
2 x Garlic cloves, minced
60g Reduced fat feta
2 x Tbsp balsamic vinegar
2 x Ripe peaches, cut into slices
120g Rocket
80g Cucumber
1 x Red onion, sliced
Olive oil or other dressing (optional)
Method
STEP 1:
Mix the balsamic vinegar and garlic together, half a pot of JD Seasonings Steak Rub and pop into a sealable bag, along with your steak. Shake well until the steak is coated in the mixture and marinate for around 20 minutes.

STEP 2:
Cook to your liking – around 3 minutes on each side for medium-rare.

STEP 3:
Load up your salad with fresh rocket, veg and peach slices.

STEP 4:
Top with your cooked steak, crumbled feta and a drizzle of olive oil (optional) or balsamic dressing.