Recipes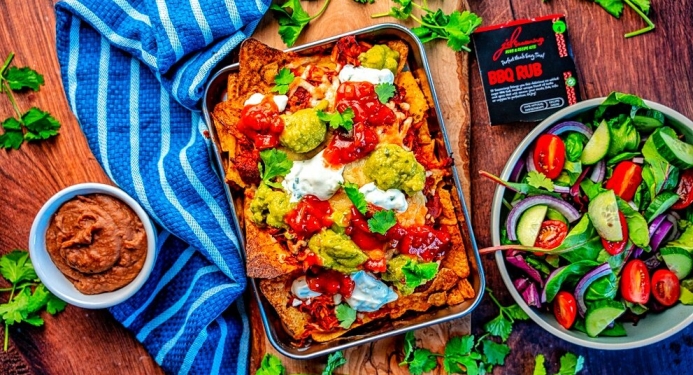 BBQ Pulled Chicken Nachos
Prep: 2 mins
Cooking: 505 mins
Total: 507 mins
Serves: 4
Per serving: 635 kcal
Sometimes you just need a plate of nachos and our BBQ Rub is here to deliver! These aren't crazily high in calories either and can absolutely be worked into your daily allowance so there's no guilt attached.
Ingredients
1 x Pot of JD Seasonings BBQ Rub
4 x Chicken breasts
400g Passata
2 x Tsp balsamic vinegar
1 x Tbsp sweetener
120g Lightly salted tortilla chips
120g Grated mozzarella
4 x Tbsp reduced fat sour cream
3 x Tbsp gauacamole
4 x Tbsp mild salsa
Fresh coriander (optional)
Low calorie cooking spray
Method
STEP 1:
Pop your chicken breasts in the slow cooker.
STEP 2:
Pour over the passata, sweetener, balsamic vinegar and our BBQ Rub. Stir, then cook for 8 hours on low.
STEP 3:
Once cooked, shred the chicken using two forks and mix with the BBQ sauce.
STEP 4:
Pour your tortilla chips into an oven-proof dish. Spoon over the BBQ Pulled chicken then top with the mozzarella and pop in the oven at 180° for about 15 minutes, until the cheese has melted.
STEP 5:
Add spoonfuls of the sour cream, salsa and guacamole on top. Sprinkle over your coriander and serve
ENJOY!!