Recipes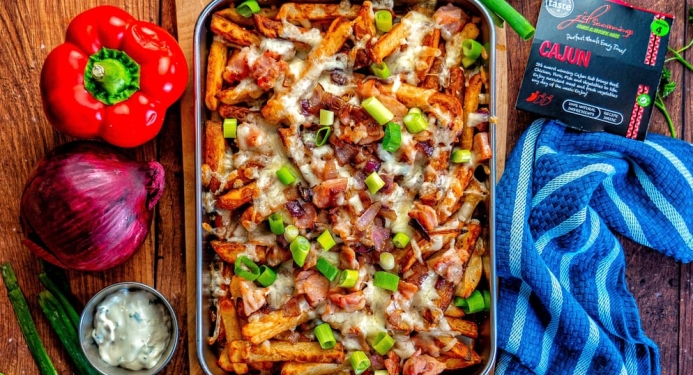 Dirty Cajun Fries
Prep: 15 mins
Cooking: 50 mins
Total: 65 mins
Serves: 4
Per serving: 389 kcal
These dirty Cajun fries make a great meal by themselves or work brilliantly as a side, especially for a fakeaway night in! Made with our delicious Cajun Rub, which gives the perfect amount of kick to these cheesy, bacon-topped chips.
Ingredients
1 x Pot of JD Seasonings Cajun Rub
4 x Large potatoes
1 x Red onion, diced
4 x Unsmoked bacon rashers (fat removed), diced
2 x Spring onion, sliced
2 x Tsp Worcestershire sauce
1 x Green pepper, chopped
60g Reduced fat cheddar
75g Red Leicester
Low calorie cooking spray
Method
STEP 1:
Peel your potatoes, slice into chips (around 1cm thick) and parboil for 5 minutes.
STEP 2:
Drain and pat-dry before spraying with low calorie cooking spray and coating in ¾ of our Cajun Rub along with the Worcestershire sauce. Shake well until fully coated.
STEP 3:
Transfer the chips to an oven-proof tray lined with baking paper. Make sure they're spread out with enough room to cook evenly.
STEP 4:
Bake at 180° for 40 minutes, turning halfway through.
STEP 5:
While the chips are cooking, fry off the red onion, green pepper and bacon in the remainder of our Cajun Rub until cooked.
STEP 6:
Remove the chips from the oven, add the bacon mixture and mix well. Top with the grated cheese and return to the oven for 5 minutes or so, until melted.
ENJOY!!