Recipes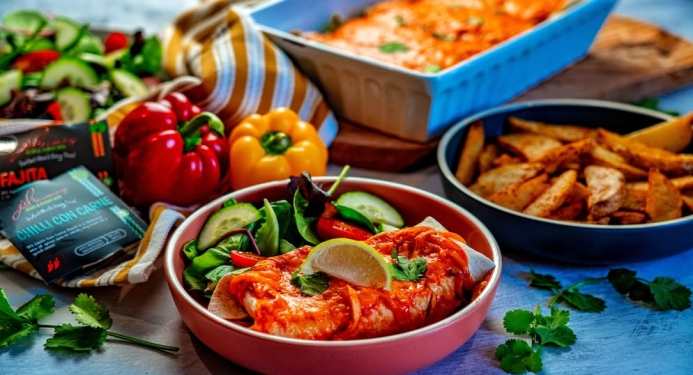 Chilli Beef Enchiladas
Prep: 10 mins
Cooking: 90 mins
Total: 100 mins
Serves: 4
Per serving: 530 kcal
You can make this tasty tex-mex fakeaway using leftover chilli con carne or a fresh batch with our Chilli Con Carne and Fajita kits.
Ingredients
1 x Pot of JD Seasonings Chilli Con Carne
1/2 x Pot of JD Seasonings Fajita
500g Lean beef mince (less than 5% fat)
1 x Brown onion, diced
4 x Garlic cloves, minced
2 x Tins of chopped tomatoes
1 tsp Balsamic vinegar
1 x Splash of Worcestershire sauce
1 x Tin of kidney beans, drained
1 x Tbsp of tomato puree
200g Passata
60g Red Leicester
60g Reduced fat cheddar
100g Mushrooms, chopped
1 x Red pepper, diced
25g Frozen sweetcorn (optional)
Reduced fat sour cream (optional)
Low calorie cooking spray
Method
STEP 1:
Fry off the onion and mince in low calorie cooking spray until softened, before adding in the full pot of JD Seasonings Chilli Con Carne and mixing well.

STEP 2:
Add the diced pepper and tomato puree and stir until combined, then pour in the chopped tomatoes, drained kidney beans, Worcestershire sauce, balsamic vinegar and sweetcorn , reduce to a low heat and simmer for around an hour.

STEP 3:
Once your chilli is cooked, carefully spoon it into tortillas, wrap and place in an oven-proof dish.

STEP 4:
Mix the passata with half a pot of JD Seasonings Fajita and spread a light layer over your wraps. Sprinkle over the cheese and bake for 15-20 minutes.

STEP 5:
Top with the sour cream.
ENJOY!!