Recipes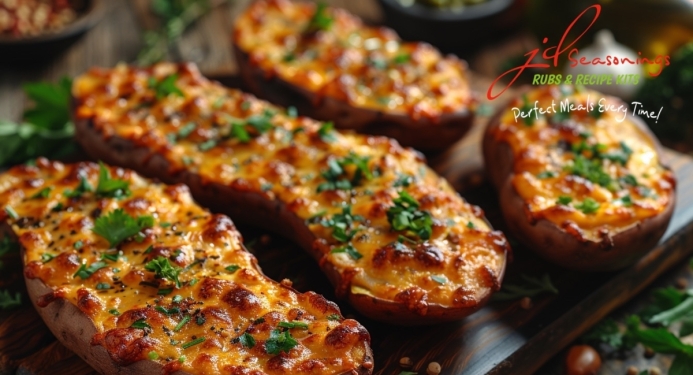 Cheesy BBQ Loaded Sweet Potato Skins
Prep: 15 mins
Cooking: 60 mins
Total: 75 mins
Serves: 4
Per serving: 270 kcal
Take your sweet potatoes to a whole new level with plenty of cheese and a delicious BBQ sauce, made from our BBQ Rub. These sweet potatoes make a great side, buffet addition or even a starter!
Ingredients
1/2 x Pot of JD Seasonings BBQ Rub
4 x Medium sweet potatoes
200g Passata
2 x Tsp sweetener
2 x Tsp balsamic vinegar
1 x Tsp Worcestershire sauce
30g Reduced fat cream cheese
2 x Spring onions, chopped
30g Sweetcorn
60g Reduced fat cheddar
60g Red leicester
Low calorie cooking spray
Method
STEP 1:
Prick your sweet potatoes with a fork, rub the outside with low calorie cooking spray and bake for around 40 minutes at 180°.
STEP 2:
While the potatoes are baking, make your BBQ sauce by mixing the passata, Worcestershire sauce, half a pot of JD Seasonings BBQ Rub, balsamic vinegar and sweetener.
STEP 3:
Remove the potatoes from the oven and leave to cool for around 15 minutes before scooping out the centres and adding to a bowl.
STEP 4:
Add the cream cheese, spring onion and sweetcorn to the potato mixture and combine until creamy, then carefully load back into your sweet potato skins.
STEP 5:
Top with your BBQ sauce and grated cheese and pop bake in the oven for 10-15 minutes.
ENJOY!!