Recipes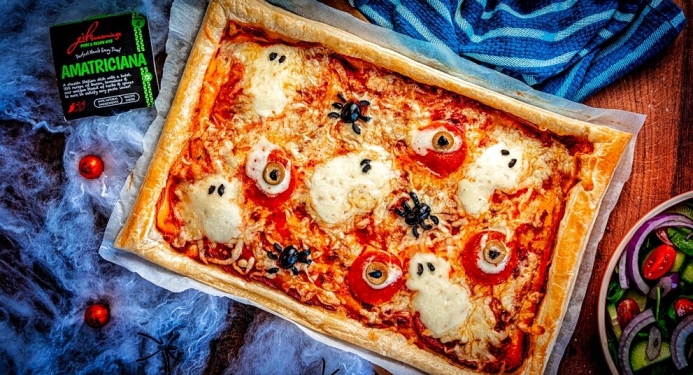 Halloween Spooky Pizza
Prep: 5 mins
Cooking: 37 mins
Total: 42 mins
Serves: 6
Per serving: 384 kcal
Bound to be a hit this Halloween, our spooky puff pastry pizza is fun to make and absolutely delicious, made with our Amatriciana Kit!
Ingredients
1 x Pot of JD Seasonings Amatriciana Kit
375g Reduced fat puff pastry
10 x Olives, green and black
4 x Pepperoni slices
90g Grated mozzarella
30g Tomato puree
140g Reduced fat mozzarella, sliced
1 x Egg, beaten
1 x Tsp sweetener
1 x Tsp balsamic vinegar
Method
STEP 1:
Make sure your puff pastry is at room temperature. Transfer to an oven-proof tray lined with baking paper. Carefully score around the edge, leaving a 1cm border and use a fork to prick the middle.
STEP 2:
Combine the tomato puree, balsamic vinegar, sweetener and Amatriciana Kit to make a delicious pizza sauce.
STEP 3:
Spread the sauce over the centre of your puff pastry, then sprinkle over the grated cheese.
STEP 4:
Carefully cut, or use a mould, to make your ghost shapes out of the sliced mozzarella. Cut them quite thin, to allow room for the mozzarella to melt when baking.
STEP 5:
Slice your black olives to make the spiders and eyes.
STEP 6:
Decorate your pizza with the toppings.
STEP 7:
Use a pastry brush to brush the beaten egg around the border of your pastry.
STEP 8:
Bake for 10-12 minutes, until the pastry is golden and cheese has melted. Slice into six equal pieces, and serve.

ENJOY!!!