Recipes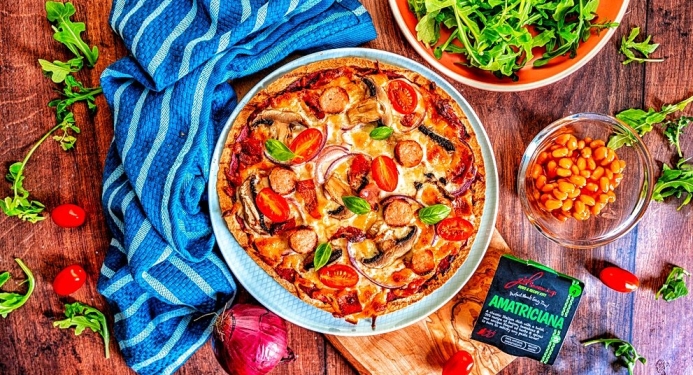 Breakfast Pizza
Prep: 15 mins
Cooking: 15 mins
Total: 30 mins
Serves: 4
Per serving: 448 kcal
A super-filling breakfast fakeaway, made with our Amatriciana Kit.
Ingredients
1/2 x Pot of JD Seasonings Amatriciana Kit
4 x Low fat pork sausages, cooked
4 x Unsmoked bacon rashers, cooked
100g Mushrooms, sliced
1/2 x Red onion, sliced
80g Baby plum tomatoes, halved
300g Reduced fat mozzarella, sliced
50g Passata
3 x Tbsp tomato puree
1 x Tsp balsamic vinegar
1 x Tsp sweetener
4 x Tortillas
Method
STEP 1:
Chop the cooked sausages and bacon.
STEP 2:
Mix the passata, tomato puree, Amatriciana Kit, balsamic vinegar and sweetener to make the pizza sauce.
STEP 3:
Spread a thin layer of the pizza sauce over the wraps.
STEP 4:
Top with the mozzarella, followed by the mushrooms, red onion, sausages, bacon and tomatoes.
STEP 5:
Bake for 10-15 minutes at 180°, until the cheese has melted.
ENJOY!!