Recipes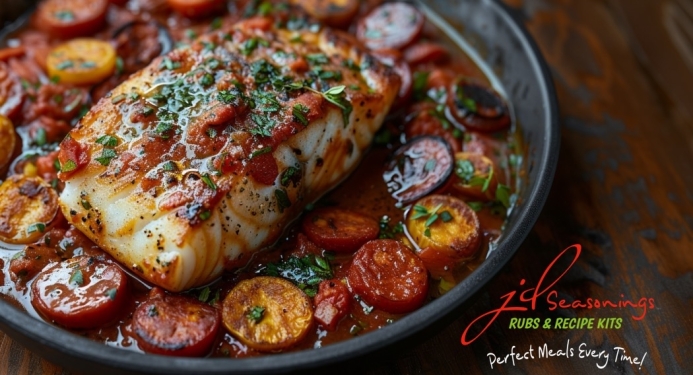 Mediterranean Cod & Chorizo Bake
Prep: 10 mins
Cooking: 50 mins
Total: 60 mins
Serves: 4
Per serving: 438 kcal
Cod pairs wonderfully with chorizo and a Mediterranean tomato sauce in this simple dish, made with our Amatriciana kit.
Ingredients
1 x Pot of JD Seasonings Amatriciana Kit
4 x Boneless and skinless cod fillets
200g Chorizo, diced
2 x Courgette, diced
1 x Red onion, diced
4 x Garlic cloves, minced
500g Passata
300ml Vegetable stock
Fresh parsley (optional)
1 x Handful of cherry tomatoes
1/2 x Tbsp of balsamic vinegar
2 x Tsp of sweetener
Method
STEP 1:
Fry your garlic, red onion and chorizo in low calorie cooking spray, until the onion has softened.
STEP 2:
Add your tomatoes and full pot of JD Seasonings' Amatriciana and cook for 2 minutes.
STEP 3:
Pour in your passata and stir well. Add the sweetener, balsamic vinegar and stock and continue to stir.
STEP 4:
Leave to simmer for around 20 minutes, until the sauce has thickened.
Step 5:
Pour your sauce into an oven-proof dish and gently place the cod fillets on top. Bake in the oven at 180° for 20 minutes.
Step 6:
Top with your fresh parsley and serve! This cod and chorizo bake is delicious by itself, or you could add rice or crispy potatoes on the side.
ENJOY!!