Recipes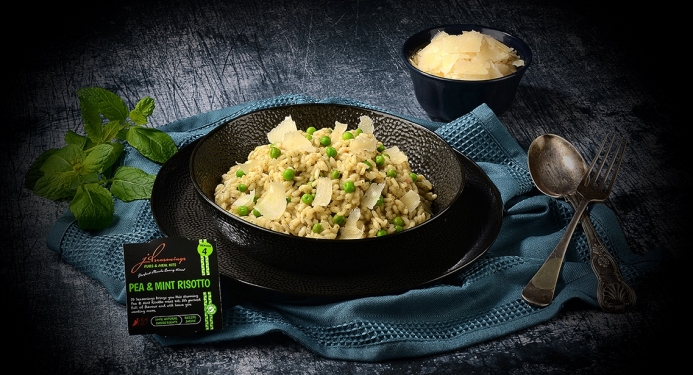 Pea & Mint Risotto
Prep: 2 mins
Cooking: 20 mins
Total: 22 mins
Serves: 4
Our pea & mint risotto makes for a fantastic meal on its own or served with meat and salad, whether enjoying on a warm summer's evening or a cold winter's night the JD Seasonings pea & mint risotto is perfect any time of the year.
Ingredients
1 pot of JD Seasonings Pea & Mint Risotto
300g Risotto rice such as Aborio
1 onion, finely chopped
1 litre veg stock (we recommend the jelly type)
A good handful frozen peas
50g grated parmesan cheese
Low calorie cooking spray.
Method
STEP 1:
Spray a heavy bottomed pan with low calorie cooking spray and place over a low to medium heat
STEP 2:
Add the onions and cook until soft.
Add the rice and full pot of JD Seasonings Pea & Mint Risotto recipe kit and cook for a further minute.
STEP 3:
Now add a 200ml stock and cook until the rice has absorbed most of the stock stirring continuously, repeat this process adding 100ml of the stock at a time until half the stock is left then add the frozen peas and continue to cook using 100ml of stock at a time until the last of the stock has been Absorbed, it should be creamy texture and should take about 20 minutes.


STEP 4:
Remove from heat, add half the cheese, cover and leave to sit for a couple of minutes.
Remove the lid, stir the risotto and serve into 4 bowls and sprinkle over the remaining Parmesan cheese and serve.
Enjoy!