Recipes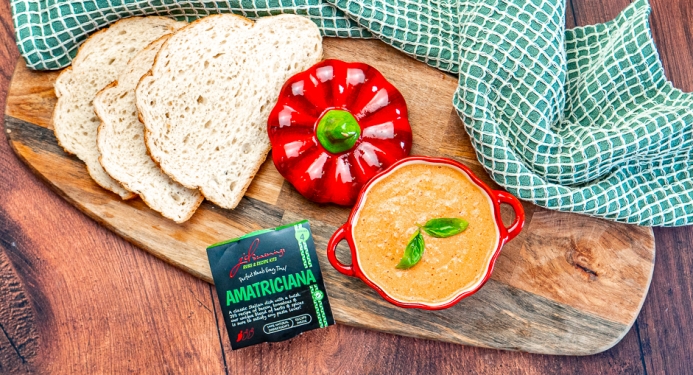 Roasted Vegetable & Feta Soup
Prep: 10 mins
Cooking: 40 mins
Total: 50 mins
Serves: 4
Per serving: 229 kcal
What a simple soup this is, but absolutely perfect for a tasty fall lunch. Made with our Amatriciana Kit and plenty of roasted veg, this soup is a must-try.
Ingredients
1 x Pot of JD Seasonings Amatriciana
8 x Garlic cloves, left whole
2 x Peppers, roughly chopped
300g Baby plum tomatoes
6 x Large tomatoes, quartered
2 x Red onions, roughly chopped
1 x Block of low fat feta cheese
250ml Vegetable stock
Low calorie cooking spray
Method
STEP 1:
Chop your veg and scatter around the block of feta, placed in the centre of a baking dish.
STEP 2:
Spray with low calorie cooking spray and sprinkle over the Amatriciana Kit.
STEP 3:
Place in the oven and bake for 30 minutes at 180°, until the vegetables are soft.
STEP 4:
Pour in the stock and either blitz with a hand-blender or add to a soup maker. Blend until smooth.
STEP 5:
Transfer into bowls and serve.

ENJOY!!!