Recipes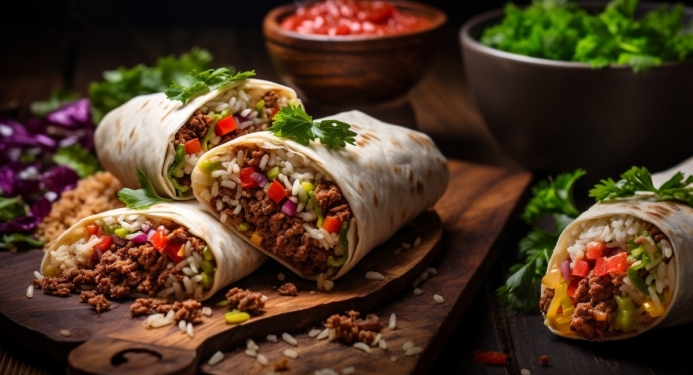 Burrito
Prep: 5 Mins
Cooking: 20 mins
Total: 25 mins
Serves: 6
JD Seasonings brings another street food classic to the table, wow your friends and family with our delicious Burritos.
Ingredients
1 pot of JD Seasonings Burritos
500g Minced beef, typically less than 5% fat 1 Onion, peeled and diced
1 Green pepper, deseeded and diced
4 Garlic cloves, peeled and finely chopped 2 tbsp tomato purée
200ml Water
100g Rice, such as long grain
Low calorie cooking spray
Optional toppings
1/2 An iceberg lettuce, finely shredded
4 tomatoes, diced
200g cheese, grated
Method
STEP 1
Cook the rice as to packet instructions, drain and set aside.
STEP 2
Spray a large frying pan with low calorie cooking spray and place over a medium heat.
STEP 3
Add the onions and peppers and fry for 5 minutes.
STEP 4
Add the minced beef and cook until browned then add garlic and cook for a further 1 minute, add the tomato purée, water and full pot of JD Seasonings Burritos and mix well then add the cooked rice and cook for 10 minutes on a low to medium heat.
STEP 5
Heat the tortillas as to packet instructions.

STEP 6
Add the Burrito mix to the tortillas, top with cheese, tomatoes and lettuce, fold in at the sides and roll to seal.

STEP 7 Optional, Oven bake for 5 minutes at 190c.