Recipes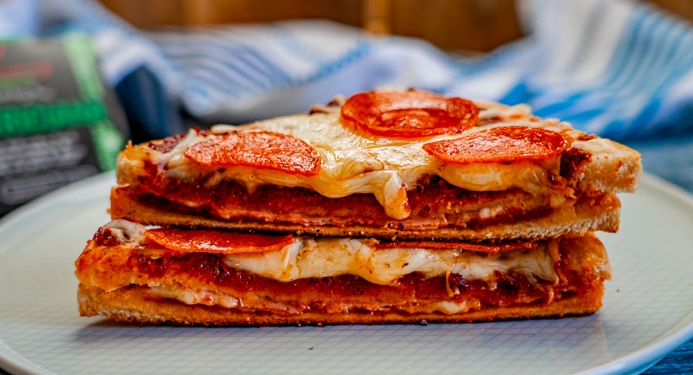 Pizza Toastie
Prep: 2 mins
Cooking: 30 mins
Total: 32 mins
Serves: 4
Per serving: 519 kcal
Pepperoni, cheese and bread are an elite combination and this pizza toastie combines those along with our Amatriciana Kit – a match made in heaven!
Ingredients
½ x Pot of JD Seasonings Amatriciana Kit
12 x Slices of pepperoni
8 x Slices of bread
4 x Tbsp of tomato puree
2 x Tsp sweetener
2 x Tsp balsamic vinegar
8 x Slices of wafer thin ham
4 x Slices of reduced fat cheddar
120g Mozzarella, grated
60g Red Leicester, grated
Low calorie cooking spray
Method
STEP 1:
Combine the tomato puree, Amatriciana Kit, balsamic vinegar and sweetener to make your pizza sauce.
STEP 2:
Add the ham to four of your bread slices, followed by the reduced fat cheddar and Red Leicester.
STEP 3:
On the slices which haven't yet been used, spread one side with the pizza sauce and place on top of the ham and cheese (with the tomato puree facing inwards).
STEP 4:
Spray your frying pan with low calorie cooking spray and carefully place the toasties into the pan. Cook for around 4 minutes, pressing down with a spatula as you go.
STEP 5:
Flip your toastie over and cover the top with more pizza sauce, followed by the mozzarella and pepperoni slices. Cook for 4 minutes. Repeat until you've cooked all four toasties.
STEP 6:
Pop your pizza toasties under the grill for 3-4 minutes to melt the mozzarella, and serve.
ENJOY!!!