Recipes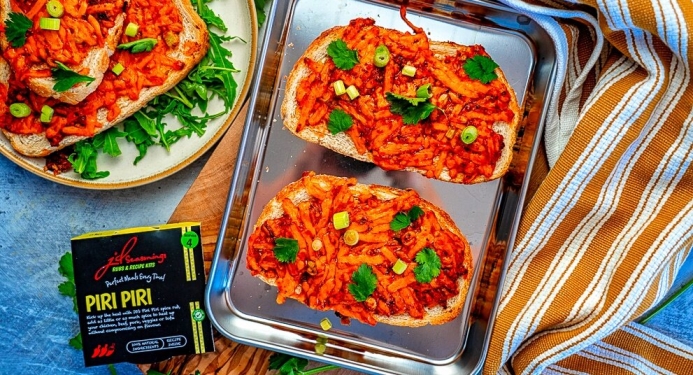 Spicy Cheese on Toast
Prep: 5 mins
Cooking: 5 mins
Total: 10 mins
Serves: 4
Per serving: 329 kcal
Heat up your cheese on toast with our Piri Piri Rub – this mixture is truly delicious, and pairs so well with a warming bowl of soup! Let us know if you try it.
Ingredients
½ x Pot of JD Seasonings Piri Piri Rub
4 x Slices of tiger bread (or other bread of your choice – make sure to calorie count accordingly)
1 Tbsp dark soy sauce
½ Tbsp Worcestershire sauce
4 x Tbsp light mayonnaise
3 x Spring onions, diced
200g Red Leicester
Method
STEP 1:
Combine the cheese, dark soy sauce, Worcestershire sauce, Piri Piri Rub and mayonnaise.
STEP 2:
Spoon over your bread and spread evenly.
STEP 3:
Pop under the grill for 3-5 minutes, until your cheese has melted, and serve.
ENJOY!!!