Recipes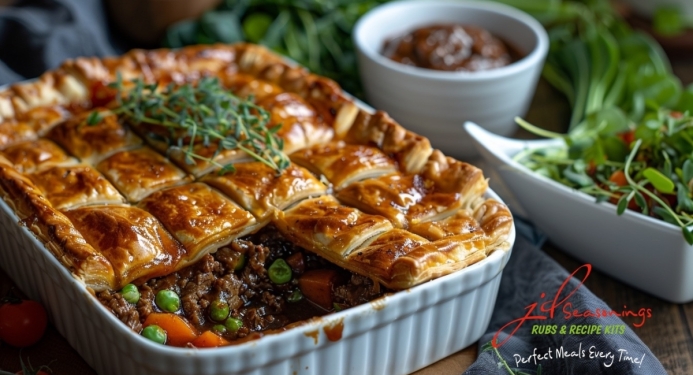 Steak & Ale Pie
Prep: 10 mins
Cooking: 155 mins
Total: 165 mins
Serves: 4
Per serving: 641 kcal
A classic, British dish and ultimate comfort food – this steak & ale pie recipe, made with our award-winning Steak Rub, is a must-try this Autumn.
Ingredients
1 x Pot of JD Seasonings Steak Rub
45g plain flour
800g Diced beef
2 x Celery stalks, chopped
3 x Garlic cloves, crushed
2 x Onions, diced
200g Carrots, roughly chopped
1 x Bay leaf
300ml Brown ale
300g Light puff pastry
½ x Beaten egg
1 x Tbsp tomato puree
1 x Tbsp balsamic vinegar
1 x Tbsp Worcestershire sauce
400g Mushrooms, quartered
300ml Beef stock
Low calorie cooking spray
Method
STEP 1:
Coat your beef in the flour and Steak Rub.
STEP 2:
In low calorie cooking spray, pan-fry your beef until browned.
STEP 3:
Remove from the pan and use a splash of water to scrape any excess from the pan. Pour into the same pot as your steak.
STEP 4:
Next, fry the onion, carrots, mushrooms, garlic and celery for around 10 minutes, until softened.
STEP 5:
Add them to the pot with your beef, then pour over the ale and beef stock.
STEP 6:
Add the Worcestershire sauce, tomato puree and balsamic vinegar, along with the bay leaf. Bring to a boil, then simmer for 1 & ½ hours.
STEP 7:
Add to a casserole dish. Cut your pastry to size and place over the top.
STEP 8:
Brush over a thin layer of beaten egg and crimp the sides with a fork. Make a couple of horizontal slits in the pastry to allow the steam to rise.
STEP 9:
Bake for around 30 minutes, until your pastry is golden brown.

ENJOY!!!