Recipes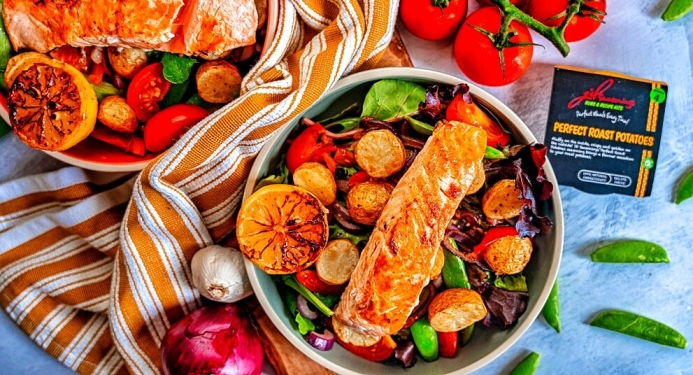 Salmon & Crispy Potato Salad
Prep: 10 mins
Cooking: 50 mins
Total: 60 mins
Serves: 4
Per serving: 379 kcal
Salads aren't just for summer – this delicious warm salad makes a perfect lunch for those chillier Autumn days. Those crispy potatoes, made with our Perfect Roast Potatoes Kit, turn this salad into something special!
Ingredients
½ x Pot of JD Seasonings Perfect Roast Potatoes Kit
4 x Salmon fillets
150g Baby plum tomatoes
200g Sugar snap peas
1 x Red onion, sliced
4 x Garlic cloves, crushed
1 x Lemon (juice)
200g Mixed leaf salad
300g Small potatoes, quartered
Low calorie cooking spray
Method
STEP 1:
Parboil the potatoes for 5 minutes, then drain, spray with low calorie cooking spray and sprinkle over the Perfect Roast Potatoes Kit.
STEP 2:
Shake well until your potatoes are fully coated, transfer to an oven-proof dish and bake for 40 minutes at 180°, turning halfway through.
STEP 3:
Meanwhile, add some low calorie cooking spray to a pan and fry off the garlic and red onion for 5 minutes, until softened.
STEP 4:
Add in the sugar snap peas and tomatoes and cook for a further 10 minutes.
STEP 5:
While your potatoes and vegetables are cooking, pan-fry your salmon fillets for 3 & ½ minutes on each side, starting skin-side down, until cooked through.
STEP 6:
Add the cooked potatoes to the vegetables and mix well.
STEP 7:
Fill your bowls with mixed leaves, pile on the veg and potatoes and top with your salmon fillet. Drizzle over the lemon juice, and serve.
ENJOY!!!