Recipes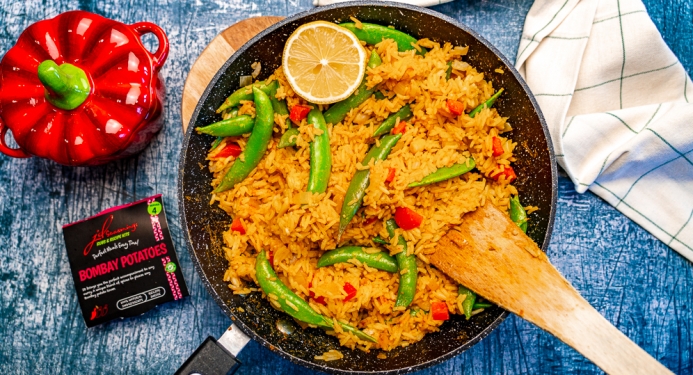 Indian Fried Rice
Prep: 5 mins
Cooking: 25 mins
Total: 30 mins
Serves: 4
Per serving: 427 kcal
This delicious Indian fried rice makes a great side dish or meal all by itself and our Bombay Potatoes Kit makes this so simple to throw together whilst still being full of flavour.
Ingredients
1 x Pot of JD Seasonings Bombay Potatoes Kit
240g Basmati rice
250g Sugar snap peas
1 x Red pepper, diced
1 x Tsp crushed ginger
30g Peanuts
4 x Garlic cloves, crushed
1 x Onion, diced
Low calorie cooking spray
Method
STEP 1:
Fry the ginger and garlic for 3 minutes in low calorie cooking spray. Meanwhile, cook your rice according to the packet instructons.
STEP 2:
Add the onion and cook for 5 minutes.
STEP 4:
Next throw in the sugar snap peas and red pepper and fry for another 6 minutes, stirring regularly.
STEP 5:
Add in the peanuts and continue to fry, for around 3 minutes.
STEP 6:
Once the rice has cooked, add it to the pan with your vegetables.
STEP 7:
Pour in the Bombay Potatoes kit and combine until everything is coated, frying for another 3-5 minutes, then serve.
ENJOY!!!