Recipes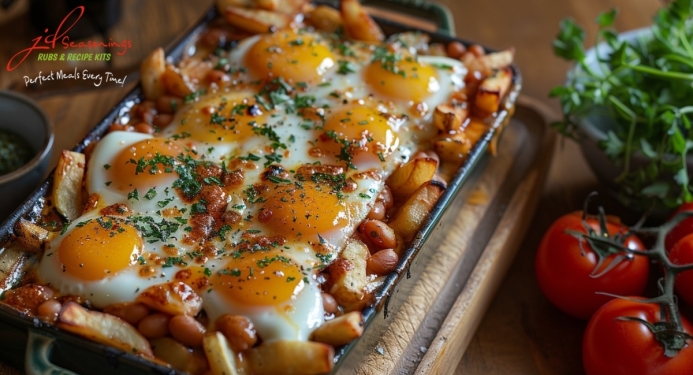 Egg, Chips & Beans Bake
Prep: 10 mins
Cooking: 60 mins
Total: 70 mins
Serves: 4
Per serving: 458 kcal
This is a really simple way of making the British classic, egg, chips & beans. We love a 'throw-it-in-the-oven' kind of meal and our Chips & Wedges Rub really bring this one to life!
Ingredients
½ x Pot of JD Seasonings Chips & Wedges
4 x Medium Eggs
2 x Tins of baked beans
1000g Potatoes
Handful of baby plum tomatoes
Low calorie cooking spray
Fresh parsley (optional
Method
STEP 1:
Cut your potatoes into chips and parboil for 5 minutes.
STEP 2:
Drain and spray with low calorie cooking spray. Sprinkle over the Chips & Wedges Rub and shake well.
STEP 3:
Transfer to an oven-proof dish and bake for 30 minutes.
STEP 4:
Add the tomatoes and return to the oven for another 10 minutes.
STEP 5:
Randomly spoon over the beans, make four wells in your mixture and crack the eggs into them.
STEP 6:
Return to the oven for 5-10 minutes, until the eggs are cooked to your liking.
STEP 7:
Sprinkle over the parsley and serve.

ENJOY!!!