Recipes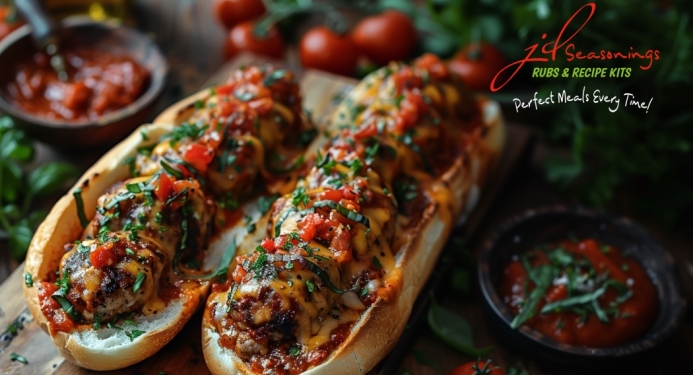 Garlic Bread Meatball Subs
Prep: 20 mins
Cooking: 25 mins
Total: 45 mins
Serves: 4
Per serving: 470 kcal
If, like us, you love a meatball sub, this garlic bread version is a must-try! They're full of flavour, topped with melted cheese and filled with delicious meatballs and marinara sauce, made with our Spaghetti Meatballs and Amatriciana kits.
Method
STEP 1:
Combine the mince, egg, diced onion and our Spaghetti Meatballs kit and roll into meatballs – the mixture should make 12-16 meatballs, depending on the size you go for.
STEP 2:
Fry the garlic for a minute or so, then add the butter and some of the parsley and stir over a low heat, until melted.
STEP 3:
Brush the garlic butter mixture over your hot dog buns, pop them in an oven-proof dish and set aside.
STEP 4:
In the same pan, fry your meatballs, turning them gently, until almost cooked through. This should take around 15 minutes.
STEP 5:
Bake the hot dog buns for 3-5 minutes at 180°.
STEP 6:
While your buns are in the oven, pour the passata into the same pan as the meatballs, along with the sweetener, balsamic vinegar and our Amatricana kit. Mix well and cook with the meatballs for about 5 minutes, until the sauce has thickened and meatballs are cooked through.
STEP 6:
Load up your buns with the spinach, meatballs, marinara sauce and mozzarella and return to the oven for 5-10 minutes to melt the cheese.
STEP 7:
Serve with salad, or with chunky chips, made with our chips & wedges rub!
ENJOY!!