Recipes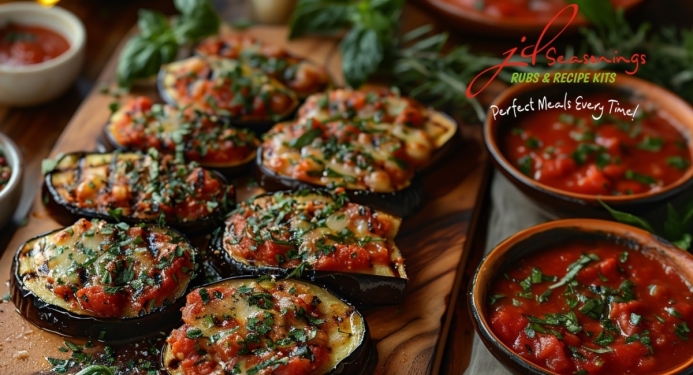 Aubergine Parmagiana
Prep: 5 mins
Cooking: 45 mins
Total: 50 mins
Serves: 4
Per serving: 321 kcal
A delicious, meat-free meal, made with our Amatriciana kit, that's really simple to make and ideal if you're on a budget.
Ingredients
1 x Pot of JD Seasonings Amatriciana Kit
3 x Aubergines, sliced into 1.5cm thick lengths
160g Reduced fat mozzarella
80g Grated parmesan
1 x Brown onion, diced
500g Passata
4 x Garlic cloves, crushed
Fresh basil to serve (optional)
Low calorie cooking spray
Method
STEP 1:
Spray your aubergine slices with low calorie cooking spray and roast in the oven at 180° for 20-25 minutes, turning halfway through, until softened.
STEP 2:
While the aubergine is cooking, fry off the diced onion and garlic in low calorie cooking spray for 3 minutes. Pour in the passata and our Amatriciana kit, mix well and simmer for 15-20 minutes, until thickened.
STEP 3:
In an oven-proof dish, add a thin layer of the tomato sauce, followed by a sprinkling of parmesan, a layer of the aubergine slices and 1/2 the mozzarella.
STEP 4:
Repeat step 3, topping the last layer of aubergine with any remaining tomato sauce, mozzarella and parmesan.
STEP 5:
Bake for 20-25 minutes, until the cheese has melted.
ENJOY!!