Recipes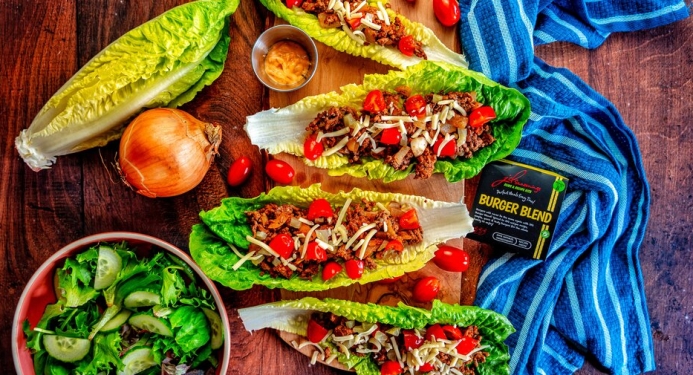 Cheeseburger Lettuce Wraps
Prep: 5 mins
Cooking: 15 mins
Total: 20 mins
Serves: 4
Per serving: 261 kcal
This take on the classic cheeseburger, using our Burger Blend, is perfect if you're looking for a low calorie and low carb alternative to help keep you on track! They also make great pre-dinner nibbles if you're hosting family or friends.
Ingredients
1 x Pot of JD Seasonings Burger Blend
500g Lean beef mince (less than 5% fat)
1 x Onion, diced
Romaine lettuce leaves
60g Reduced fat grated cheddar
Chopped gherkins, to taste
12 x Chopped baby plum tomatoes
Burger sauce (optional)
Method
STEP 1:
Fry off your diced onion and lean beef mince with JD Seasonings Burger Blend, until cooked through.
STEP 2:
Carefully spoon into your lettuce cups and top with the tomatoes and gherkins, as desired.
STEP 3:
Sprinkle over your grated cheddar, serve with burger sauce for dipping (if desired).
ENJOY!!