Recipes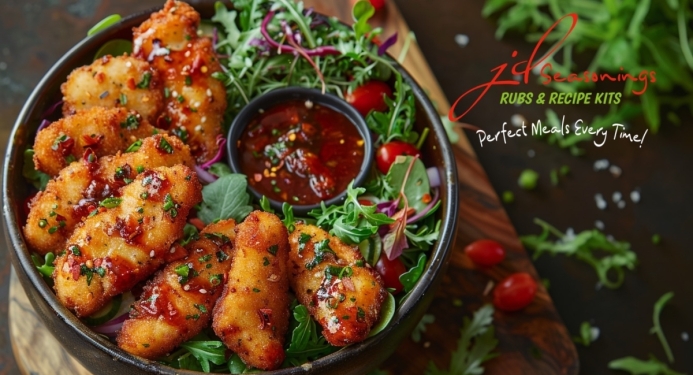 Piri Piri Chicken Goujons
Prep: 10 mins
Cooking: 25 mins
Total: 35 mins
Serves: 4
Per serving: 299 kcal
These spicy chicken goujons are absolutely delicious and really simple, made with our Piri Piri Rub and served with a spicy mayo dip.
Ingredients
1 x Pot of JD Seasonings Piri Piri Rub
4 x Chicken breasts, thickly sliced
1 x Egg
4 x Tbsp light mayonnaise
80g Breadcrumbs
Low calorie cooking spray
Method
STEP 1:
Firstly, crack your egg into a wide dish and beat with a fork.
STEP 2:
Mix ¾ of the Piri Piri Rub with the breadcrumbs.
STEP 3:
Dip the chicken strips in the beaten egg, followed by the spicy breadcrumb mixture.
STEP 4:
Line an oven-proof dish with baking paper and spray with low calorie cooking spray.
STEP 5:
Place the chicken goujons onto the baking paper, spray with more low calorie cooking spray and bake at 180° for 25-30 minutes, turning halfway through.
STEP 6:
While the chicken is cooking, mix the remaining Piri Piri Rub with the mayonnaise.
STEP 7:
Once the chicken is cooked through, serve with the spicy mayonnaise for dipping.
ENJOY!!!