Recipes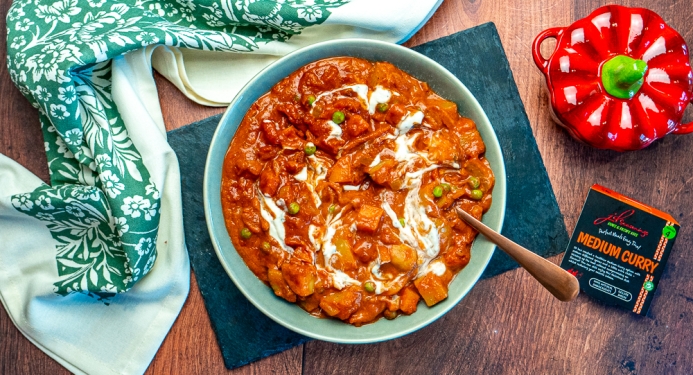 Easy Vegetable Curry
Prep: 5 mins
Cooking: 25 mins
Total: 30 mins
Serves: 4
Per serving: 196 kcal
This easy vegetable curry does exactly what the name says! It's full of healthy veggies and our Medium Curry kit makes the whole process so simple. The result is a tasty dish the whole family can enjoy, in just 30 minutes.
Ingredients
1 x Pot of JD Seasonings Medium Curry
1 x Courgette, roughly chopped
1 x Onion, diced
2 x Large carrots, chopped
2 x Peppers, chopped
80g Frozen peas
1 x Tsp of ginger, grated
160g Mushrooms, chopped
4 x Garlic cloves, crushed
800g Chopped tomatoes
3 x Tbsp fat free greek yoghurt
Method
STEP 1:
Fry the onion, ginger, carrot and garlic for 8 minutes, until softened.
STEP 2:
Next, add in the courgette and pepper, followed by the Medium Curry kit and mix well.
STEP 3:
Pour in the chopped tomatoes and simmer for 15 minutes. Add the peas and cook for another 5 minutes.
STEP 4:
Reduce to a low heat, stir in the fat free yoghurt and serve!
ENJOY!!!