Recipes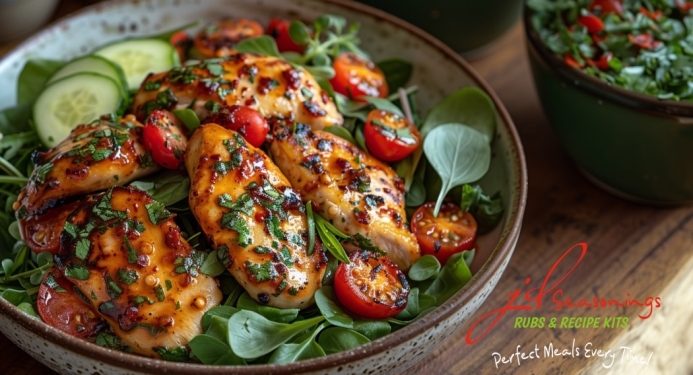 Sweet Chilli Chicken & Halloumi Salad
Prep: 10 mins
Cooking: 25 mins
Total: 35 mins
Serves: 4
Per serving: 285 kcal
Another must-try summer salad with crispy chicken, made with our award-winning Chicken Rub, halloumi and sweet chilli sauce.
Ingredients
1/2 x Pot of JD Seasonings Chicken Rub
4 x Chicken breasts, all fat removed
1 x Red onion, sliced
180g Reduced fat halloumi
150g Mixed leaves
80g Cucumber
60g Cherry tomatoes
4 x Tbsp reduced sugar sweet chilli sauce
Low calorie cooking spray
Method
STEP 1:
Carefully butterfly your chicken breasts and coat in the full pot of JD Seasonings Chicken Rub.

STEP 2:
Either grill the chicken or fry using low calorie cooking spray on a griddle pan for around 15 minutes, until cooked through.

STEP 3:
Load up your salad.
STEP 4:
Cook your halloumi in the griddle pan until golden on both sides.
STEP 5:
Slice your chicken into strips and pile onto your salad along with the halloumi and drizzle over your sweet chilli sauce.
ENJOY!!