Recipes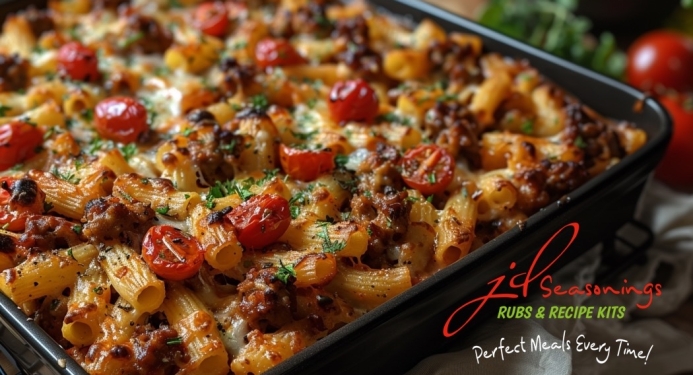 Spicy Bolognese Pasta Bake
Prep: 5 Mins
Cooking: 80 Mins
Total: 85 Mins
Serves: 4
Try something different with your Bolognese pot.
Comfort food at its best.
Ingredients
500g of minced beef or 250g minced beef and 250g minced pork,
typically less than 5% fat
500g pasta shapes
4 bacon rashers, all fat removed and roughly chopped
1 onion, roughly chopped
2 garlic cloves, peeled and crushed
2 carrots, peeled and finely chopped
2 stick of celery, finely chopped
1 red chilli, deseeded and finely chopped
2 tbsp Worcestershire sause
2 400g tinned tomatoes, blitzed with a hand blender or food processor
400ml beef stock
60g Cheddar cheese, grated
60g Mozzarella cheese, grated
low calorie cooking spray
Method
STEP 1
Spray a large non stick pan with low calorie cooking spray and place over a medium heat.
STEP 2
Add the onions and bacon and fry for 3 - 4 minutes then add the carrots, celery, garlic and chilli and cook for a further 2 minutes.
STEP 3
Add the full pot of JD Seasonings Bolognese and the mince meat, mix well and cook until meat has browned.
STEP 4
Stir in the Worcestershire sauce and the 2 tins of blitzed tomatoes then add 400ml beef stock and mix well.
STEP 5
Turn the heat up and bring to the boil, cover and simmer for 45 minutes stiring occasionally.
STEP 6
Cook the pasta shapes as to the packet instructions, drain then add to the Bolognese and mix well.
STEP 7
Pour the pasta into a ovenproof dish, top with the Mozzarella and Cheddar cheese and bake in the center of a preheated oven at 190.c gas mark 5 for 25 to 30 minutes.