Recipes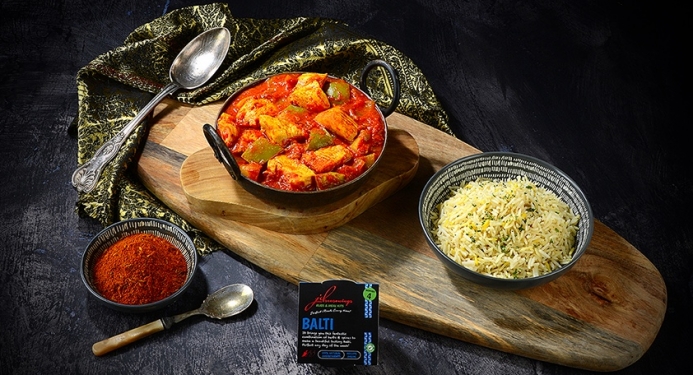 Chicken Balti
Prep: 5 mins
Cooking: 40 mins
Total: 45 mins
Serves: 4
One claim regarding the origin of Balti cooking in Birmingham was that it was first served in 1977 in a restaurant called Adil's. Our aromatic blend makes the perfect balti, bursting with flavour and very simple to make.
Ingredients
600gm chicken breasts, all fat removed and cut into bite size pieces
3 cloves of garlic, peeled and finely chopped
1″ cube ginger, peeled and grated
1 x 400g Tinned chopped tomatoes,
1 green pepper, deseeded and cut into chunks
2 medium onion, peeled and roughly chopped
Pinch of salt
300ml water
Juice of 1/2 a lemon
Low calorie cooking spray
Method
STEP 1:
Spray a non-stick frying pan with low calorie cooking spray and place over a low – medium heat. Add the chopped onions and cook slowly until light brown.
STEP 2:
Add the garlic, ginger, chicken and peppers and cook for another 3 mins, just to brown the chicken.
STEP 3:
Add the pot of jd's Balti and fry for a future minute or 2 then add lemon juice and mix well.
STEP 4:
Add the diced tomatoes and the water and salt to taste. Turn the heat up, bring to a boil then turn down and simmer for 30 to 40 mins or until a thick consistency is reached.
STEP 5:
Serve with pilau rice.