Recipes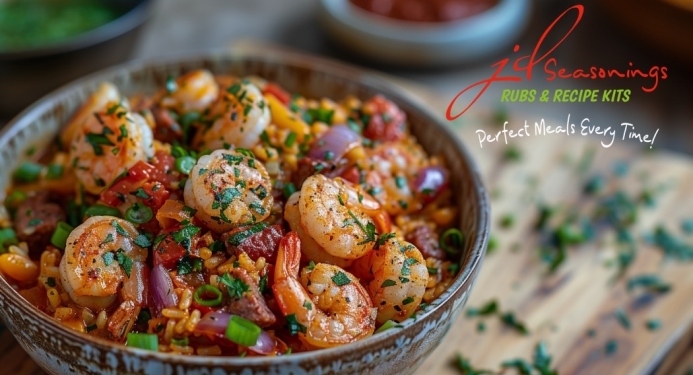 Prawn & Chorizo Jambalaya
Prep: 10 mins
Cooking: 30 mins
Total: 40 mins
Serves: 4
Per serving: 416 kcal
If you've tried our chicken jambalaya recipe, this prawn & chorizo version, made with our Jambalaya kit, is just as tasty and perfect for a family dinner or batch cooking.
Ingredients
1 x Pot of JD Seasonings Jambalaya Kit
200g Peeled prawns
1 x Spring onion, chopped
2 x Peppers, chopped
1 x Brown onion, diced
4 x Garlic cloves, crushed
260g Long grain rice
750ml Vegetable stock
400g Chopped tomatoes
1 x Lime (juice)
100g Chorizo
1 x Stick of celery, chopped
Method
STEP 1:
Using low calorie cooking spray, fry off the garlic, onion, peppers, chorizo and celery for around 5 minutes, until softened.
STEP 2:
Add in the full pot of JD Seasonings Jambalaya and continue to stir.
STEP 3:
Add your uncooked rice to the pot and combine with the spices and chorizo mixture before pouring in the chopped tomatoes, lime juice and vegetable stock and leaving to simmer for around 20 minutes, until your rice has cooked.
STEP 4:
Add your prawns and sliced spring onion and cook for another 3-5 minutes, until your prawns are cooked.
ENJOY!!