Recipes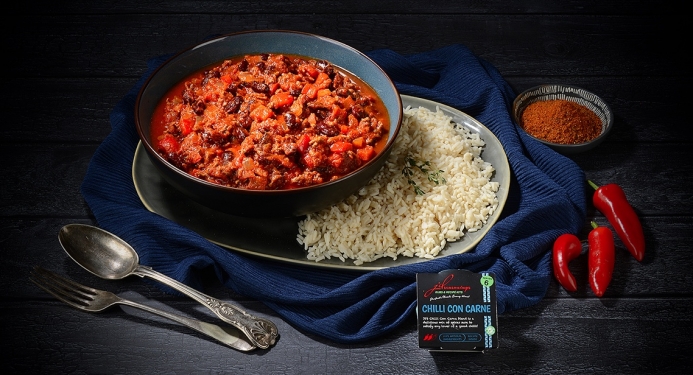 Chilli Con Carne
Prep: 10 mins
Cooking: 1 hour 10 mins
Total: 1 hour 20 mins
Serves: 6
A chilli lovers dream chilli.
A fantastic combination of herbs & spices for an authentic Chilli Con Carne.
Best served with rice.
Ingredients
500g Lean minced beef, typically less than 5% fat
2 onions, peeled and diced
2 red peppers, deseeded and diced
2 x 400g tinned Tomatoes
400ml beef stock
1 x Red kidney beans, washed and drained
1 tbsp Tomato puree
Low calorie cooking spray
Method
STEP 1:
Spray a large non stick frying pan with low calorie cooking spray and place over a medium heat.
STEP 2:
Add the onions and fry for 2 minutes, then add the peppers and cook for further 3 minutes
STEP 3:
Add the minced beef and continue to cook for 3 minutes. Pour in 1 pot of JD's Chilli Con Carne blend, mix well and cook until the minced beef has browned.
STEP 4:
Pour in the 2 tins of chopped tomatoes then add the beef stock
STEP 5:
Squeeze in the tomato puree, mix well, cover, turn the heat up to high and bring to the boil then turn the heat down and simmer for 30 minutes
STEP 6:
Remove the lid, stir in the Kidney beans and cook for a further 30 minutes.
STEP 7:
Serve with boiled rice and ENJOY !!