Recipes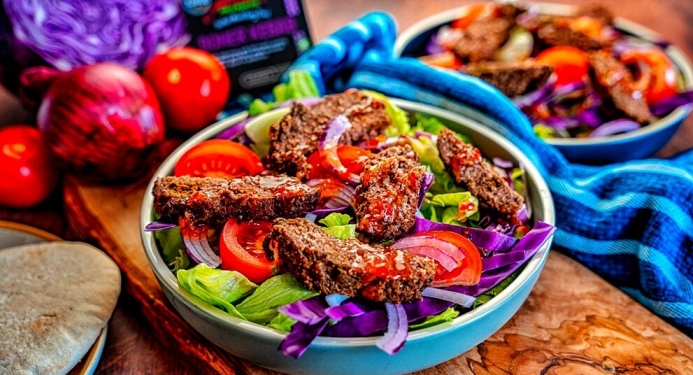 Kebab In A Bowl
Prep: 5 mins
Cooking: 80 mins
Total: 85 mins
Serves: 4
Per serving: 288 kcal
You've heard of Burger in a Bowl – a slimming friendly classic take on a burger – right? Well, this Kebab in a Bowl, made with our Doner Kebab seasoning, makes a fantastic alternative to the real thing – for a lot less calories!
Ingredients
500g Lean beef or lamb mince (less than 5% fat)
1 x Iceberg lettuce
1/2 x Red cabbage, sliced
1 x Red onion, sliced
4 x Tomatoes, sliced
Chilli sauce (optional)
Method
STEP 1:
Mix your mince with 1x pot of JD Seasonings Doner Kebab kit and mould into a loaf shape.
STEP 2:
Pop into a baking tray sprayed with low calorie cooking spray, cover with foil and bake for 40 minutes.
STEP 3:
Remove the foil, turn your loaf over, respray and return to the oven for a further 40 minutes.
STEP 4:
Pile your lettuce, tomatoes, red onion and red cabbage into a bowl. Top with your thinly sliced 'Doner' meat and any sauces, as desired.
ENJOY!!