Recipes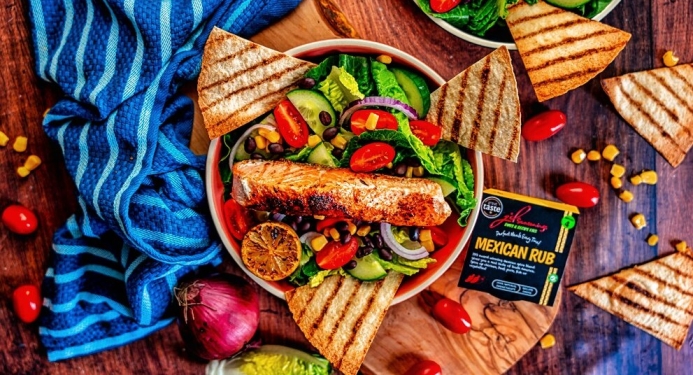 Mexican Salmon Salad
Prep: 10 mins
Cooking: 15 mins
Total: 25 mins
Serves: 4
Per serving: 487 kcal
Salads don't have to be boring, and our Mexican Rub and zingy lime can really bring a salmon fillet to life, especially with all the extras in this tasty bowl of goodness!
Ingredients
1 x Pot of JD Seasonings Mexican Rub
4 x Boneless salmon fillets
1 x Lime (juice)
1/2 x Tin of black beans
1 x Red onion, chopped or sliced
30g Sweetcorn
80g Cucumber
50g Baby plum tomatoes
200g Baby gem lettuce
2 x Tortilla wrap
Low calorie cooking spray
Method
STEP 1:
Drizzle the lime juice over your salmon fillets and sprinkle evenly with JD Seasonings Mexican Rub.

STEP 2:
Pan-fry the salmon fillets by placing skin-side down and cooking for around 4 minutes until the skin is crispy, before carefully flipping over and frying on the other side, until cooked through.
STEP 3:
Cut your tortilla into triangles, spray with low calorie cooking spray, and bake in the oven for 5-10 minutes.
STEP 4:
Cook your black beans on the hob for 5-6 minutes (make sure they don't come to the boil) and drain.
STEP 5:
Layer up your salad using the lettuce, cucumber, red onion, sweetcorn, homemade tortilla chips, black beans and tomatoes. Top with your cooked salmon fillets.
ENJOY!!