Recipes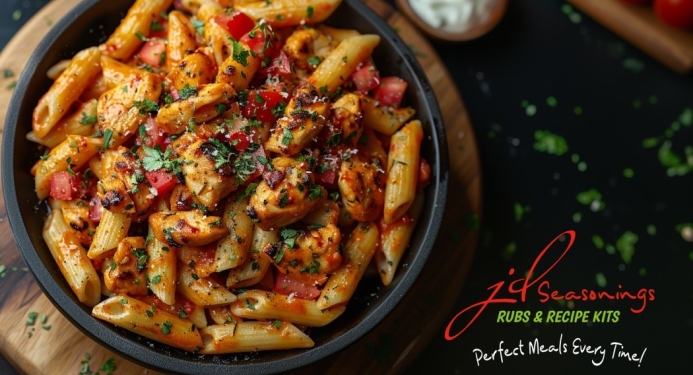 Chicken Fajita Pasta
Prep: 5 mins
Cooking: 30 mins
Total: 35 mins
Serves: 4
Per serving: 493 kcal
This easy chicken fajita pasta recipe will be a hit with the whole family. Made with our Fajita Kit, it's ready in just over thirty minutes, so ideal for a busy weeknight dinner that everyone will enjoy.
Ingredients
1 x Pot of JD Seasonings Fajita Kit
2 x Large chicken breasts, diced
2 x Peppers, sliced
1 x Brown onion, diced
4 x Garlic cloves, crushed
300g Penne pasta
2 x Tbsp tomato puree
250ml Vegetable stock
60g Reduced fat cream cheese
Parsley (to serve, optional)
Method
STEP 1:
Fry off your onion and garlic in low calorie cooking spray, until softened.
STEP 2:
Add your diced chicken to the pan and cook for 10-15 minutes.
STEP 3:
Add in the full pot of JD Seasonings Fajita and mix well before chucking in your sliced peppers.
STEP 4:
Add your tomato puree and stir again, until the veg and chicken is coated.
STEP 5:
Pour over the vegetable stock and leave to simmer for 10-15 minutes. Pop your pasta on to boil while the sauce is thickening.
STEP 6:
Turn to a low heat and stir in the cream cheese until you have a light and creamy sauce. Mix with your cooked pasta, top with some parsley and serve with a green salad on the side.
ENJOY!!