Recipes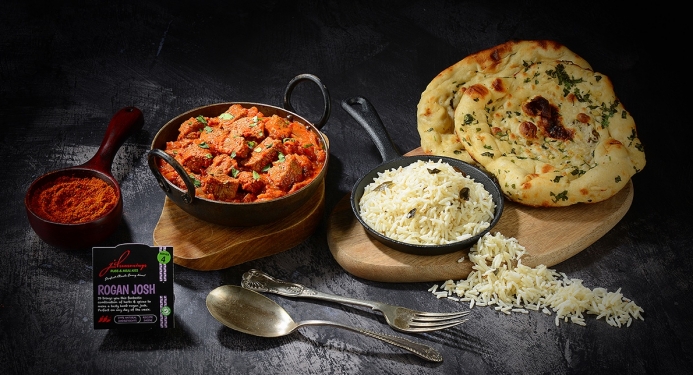 Lamb Rogan Josh
Prep: 5 mins
Cooking: 90 mins
Total: 95 mins
Serves: 4
Our specially mixed curry powder is a an exciting blend of 15 herbs and spices Paprika, Garam masala, Cumin, Salt, Black pepper, Chilli, Fennel, Onion powder, Cinnamon, Fenugreek, Coriander, Cardamon, Garlic granules and can be used to make easy curries and as a flavouring for a variety of Indian dishes.
Ingredients
700g lamb, all visible fat removed & cut into bite size pieces
2 medium onions, peeled and roughly chopped
3 cloves of garlic, peeled and crushed
1″ cube ginger, peeled and finely chopped
300ml tinned tomatoes, blitzed with a hand blender / food processor
300ml boiling water
Juice of 1/2 lemon
4 tbsp fat free natural yoghurt
Fresh chopped coriander to garnish (optional)
Low calorie cooking spray
Method
STEP 1:
Spray a large non stick pan with low calorie cooking spray & place over a low – medium heat. Add the onions and gently fry until starting to brown.
STEP 2:
Add the lamb and fry for 3 – 4 mins then add the garlic and ginger, mix well then after 2 mins of cooking, stirring often, add the full pot of JD's Lamb Rogan Josh & mix well, cook for 1 min then pour in lemon juice & stir in.
STEP 3:
Add the blitzed tomatoes and the water, mix well, cover with a tight fitting lid and cook for about an hour and 20 minutes or until the lamb is tender. Check seasoning.
STEP 4:
Remove from the heat and allow to stand for 3 or 4 minutes then add the yoghurt 1 tbsp at a time and stir in. Doing it this way should prevent curdling
STEP 5:
Serve with boiled rice or naan bread.