Recipes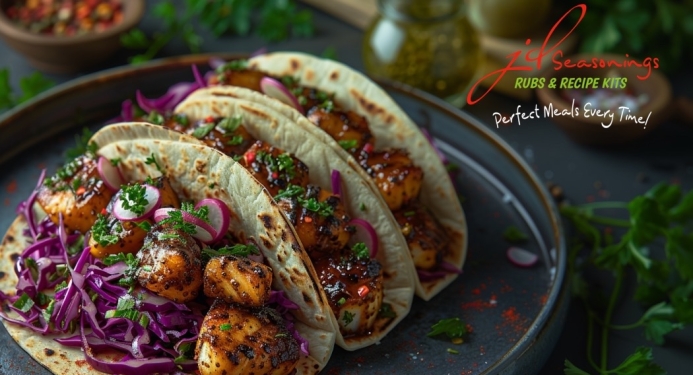 Cajun Cod Tacos
Prep: 10 mins
Cooking: 15 mins
Total: 25 mins
Serves: 4
Per serving: 308 kcal
These fish tacos, made with our Cajun Rub, are bursting with flavour, filled with a delicious Cajun slaw, too! These need to go on your next meal plan, we promise you won't regret it!
Ingredients
1 x Pot of JD Seasonings Cajun Rub
2 x Large, boneless cod fillets
1 x Medium carrot, grated
80g Red cabbage, thinly sliced
4 x Tbsp light mayonnaise
8 x Mini tortillas
80g Radishes, thinly sliced
2 x Spring onion, sliced
80g Lambs lettuce
Fresh coriander (optional)
½ x Lime (juice)
Low calorie cooking spray
Method
STEP 1:
Coat your cod fillets in 3/4 of the Cajun Rub.
STEP 2:
Mix the mayonnaise, red cabbage and carrot together, along with the remaining Cajun Rub.
STEP 3:
Pan-fry the cod fillets in low calorie cooking spray until cooked through (about 5-10 minutes) and flaking.
STEP 4:
While the cod is cooking, place the tortillas upside down over an oven-proof rack and pop in the oven for 5 minutes to crisp into shape.
STEP 5:
Squeeze the lime juice over the fish.
STEP 6:
Fill the tortillas with the lambs lettuce, slaw, radishes, flaked cod, spring onion and coriander.
ENJOY!!