Recipes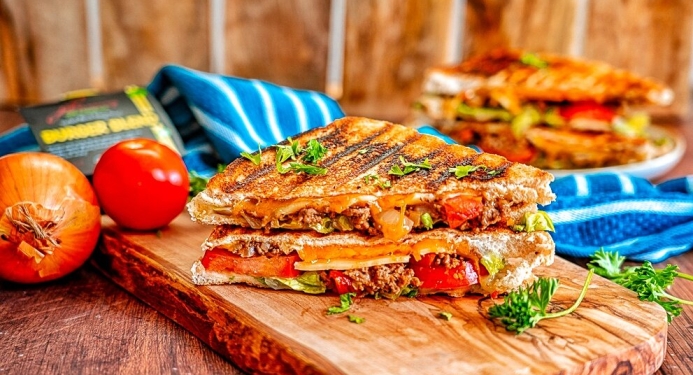 Cheeseburger Toastie
Prep: 5 mins
Cooking: 20 mins
Total: 25 mins
Serves: 4
Per serving: 590 kcal
This combination is a game-changer! Made with our delicious Burger Blend, this makes a great lunch or add fries and salad on the side for dinner.
Ingredients
1 x Pot of JD Seasonings Burger Blend
1 x Onion, diced
50g Crinkle cut gherkins
8 x Reduced fat cheddar slices
60g Red Leicester, grated
500g Lean beef mince
8 x Slices of bread
2 x Tomatoes, sliced
80g Iceberg lettuce, shredded
2 x Tbsp burger sauce
Low calorie cooking spray
Method
STEP 1:
Fry the onion for 3 minutes, until softened.
STEP 2:
Add in the lean beef mince and Burger Blend and fry for a further 10-15 minutes, until cooked.
STEP 3:
Layer up your toasties with the lettuce, sliced tomato, burger mixture, cheese, gherkins and burger sauce.
STEP 4:
Either pan-fry, grill or use a toasted sandwich maker to cook for around 5 minutes, until the bread has toasted and cheese has melted.
ENJOY!!!