Recipes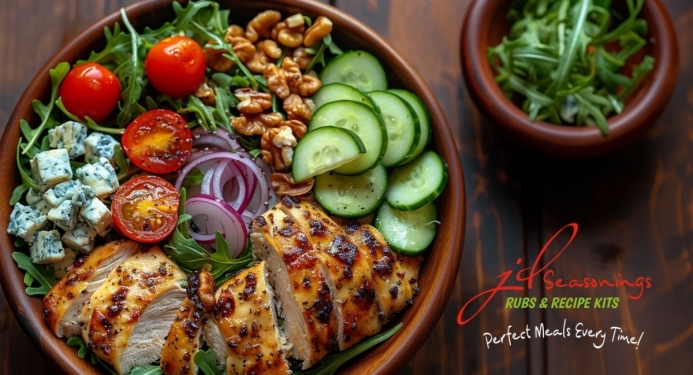 Chicken, Blue Cheese & Walnut Salad
Prep: 10 mins
Cooking: 15 mins
Total: 25 mins
Serves: 4
Per serving: 463 kcal
Summer salads are the perfect light lunch – you can even batch cook these to make those work lunches a little bit easier! Creamy blue cheese and crunchy walnuts work so well with our Chicken-Rub-coated chicken breasts in this dreamy combo.
Ingredients
4 x Large chicken breasts, all fat removed
120g Fresh rocket
80g Cucumber
1 x Red onion, sliced
60g Cherry tomatoes
50g Blue Cheese
80g Walnuts
Low calorie cooking spray
Method
STEP 1:
Butterfly your chicken breasts and coat in half a pot of our award-winning JD Seasonings Chicken Rub.
STEP 2:
Cook on the grill or spray a griddle pan and cook for about 15 minutes over a medium heat until cooked through.
STEP 3:
Load up your bowl with the rocket, cucumber, red onion and tomatoes.
STEP 4:
Slice the cooked chicken and add to your salad, along with the crumbled blue cheese and walnuts.
ENJOY!!