Recipes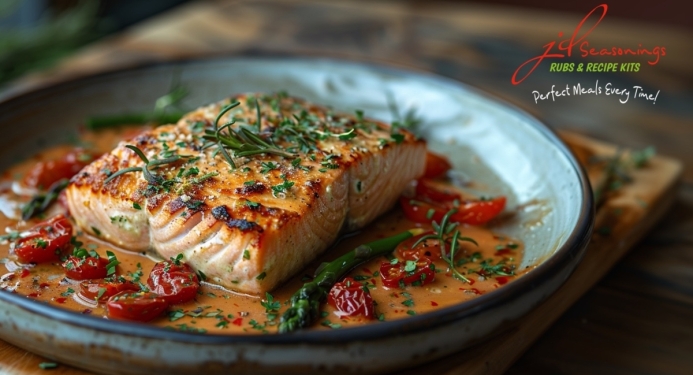 Tuscan Salmon
Prep: 10 mins
Cooking: 30 mins
Total: 40 mins
Serves: 4
Per serving: 376 kcal
This delicious pan-fried salmon in a creamy, Tuscan tomato sauce, made with our Amatriciana kit, is sure to be a new family favourite. Serve with potatoes, rice or pasta and green veggies for a simple and delicious dinner.
Ingredients
1 x Pot of JD Seasonings Amatriciana
4 x Boneless salmon fillets
150g Sundried tomatoes
1 x Onion, diced
1 x Tbsp tomato puree
250ml Vegetable stock
4 x Garlic cloves, minced
60g Grated parmesan
2x Tbsp reduced fat crème fraiche
1x Handful of baby spinach
Method
STEP 1:
Pan-fry your salmon fillets with a sprinkling of JD Seasonings Amatriciana kit for about four minutes on each side, then set aside.

STEP 2:
In the same pan, fry off your diced onion and garlic, until softened. Add in the sundried tomatoes and cook for another 3-4 minutes. Add in the remainder of the JD Seasonings Amatriciana kit and mix well.

STEP 3:
Combine the tomato puree and vegetable stock and pour over your veg. Add in your spinach and leave to simmer for around 10 minutes, until the liquid has reduced and spinach has wilted.

STEP 4:
Reduce to a low heat, stir in your parmesan and crème fraiche and mix until you have a creamy sauce, before adding the salmon back to the pan for 5 minutes.

STEP 5:
Serve with any sides of your choosing.
ENJOY!!