Recipes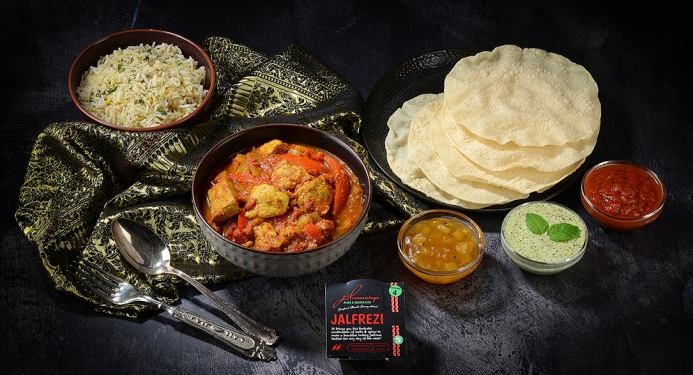 Chicken Jalfrezi
Prep: 5 mins
Cooking: 40 mins
Total: 45 mins
Serves: 4
Our jalfrezi is a unique aromatic blend of Turmeric, Cumin, Coriander, Salt, Garam masala, Chilli powder. This is a very tasty curry and very easy to make.
Ingredients
600gm chicken breasts fillets, all visible fat trimmed away
2 medium onions, peeled and roughly chopped
3 cloves of garlic, peeled and roughly
1″ cube ginger, peeled and grated
1 red pepper, deseeded and cut into strips
400gm tinned chopped tomatoes, blitzed with a hand blender/food processor
300ml hot water
Juice of 1/2 a lemon
Low calorie cooking spray
Method
STEP 1:
Spray a large non stick frying pan with low calorie cooking spray and place over a low – medium heat. Add the onions and fry for 3 mins then add the red peppers and fry for a further 3 mins.
STEP 2:
Add the garlic and ginger and cook for 2 mins. Now add the pot of jd's jalfrezi, chicken and lemon juice, mix well and cook for a further 2 mins.
STEP 3:
Add the blitzed tomatoes and hot water, cover and cook for 20 mins. Remove the lid and cook for 10 mins or until your jalfrezi is a nice thick consistency.