Recipes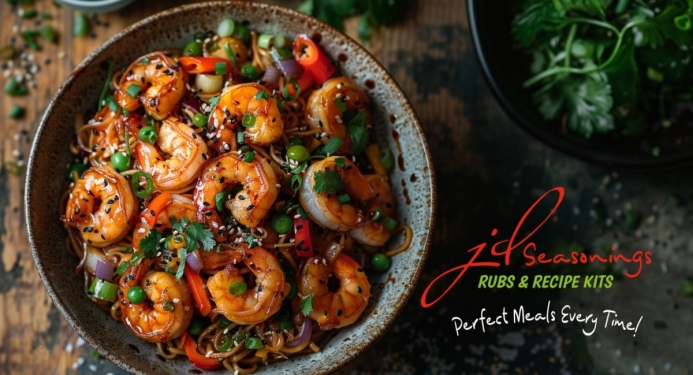 Salt and Pepper Prawns
Prep: 10 mins
Cooking: 10 mins
Total: 20 mins
Serves: 4
Per serving: 428 kcal
There are so many chinese fakeaway options with our Salt and Pepper Chips rub, and these salt and pepper prawns are a perfect example. Ready in around 20 minutes too, so they're even quicker to make than ordering and waiting for a takeaway!
Ingredients
1 x Pot of JD Seasonings Salt and Pepper Chips
320g Raw, peeled prawns
2 x Red pepper, chopped
2 x Brown onion, diced
4 x Medium egg noodle nest
1x Tbsp dark soy sauce
1 x Tbsp light soy sauce
200g Bamboo shoots
2 x Spring onion, sliced
2 x Tbsp cornflour
Method
STEP 1:
Mix your cornflour and full pot of JD Seasonings Salt and Pepper chips together and coat your prawns in the mixture.
STEP 2:
Fry off the diced onion and pepper in low calorie cooking spray for 5 minutes before adding the prawns for a further 5 minutes, or until cooked through. You could also add fresh, chopped chillies if desired.
STEP 3:
In a separate pan, fry your bamboo shoots in low calorie cooking spray, for around 6 minutes.
STEP 4:
Cook your egg noodles according to the packet instructions. Once drained, toss with the light and dark soy sauce and combine with the cooked bamboo shoots.
STEP 5:
Serve together with a sprinkle of spring onion.
ENJOY!!