Recipes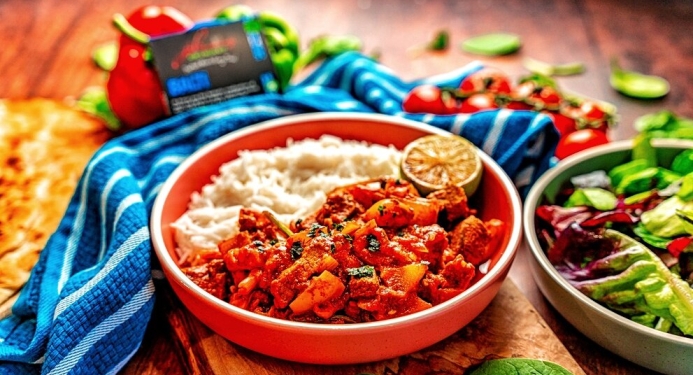 Beef Balti
Prep: 5 mins
Cooking: 75 mins
Total: 80 mins
Serves: 4
Per serving: 281 kcal
This beef balti is super tasty and such an easy dish to throw together – ideal for an Indian fakeaway night! Made with our Balti Kit.
Ingredients
1 x Pot of JD Seasonings Balti Kit
1 x Onion, diced
1 x Tsp ginger, crushed
3 x Garlic cloves, crushed
1 x Pepper, diced
30g Baby spinach leaves
450g Diced beef
1 x Tin of chopped tomatoes
1 x Lime (juice)
Low calorie cooking spray
Method
STEP 1:
Marinate the beef in the lime juice and ½ our Balti Kit. Leave in the fridge for 30 minutes.
STEP 2:
In low calorie cooking spray, fry the onion, ginger and garlic for 5 minutes.
STEP 3:
Add the beef and cook for around 10 minutes before throwing in the diced pepper and cooking for another 5 minutes.
STEP 4:
Pour in the chopped tomatoes, fill the tin halfway with water and add that to the pan, too.
STEP 5:
Sprinkle over the remaining Balti Kit and mix well. Simmer for 20 minutes.
STEP 6:
Add the spinach and stir, then simmer for a further 10 minutes.
STEP 7:
Serve with a little fresh coriander (optional).
ENJOY!!!