Recipes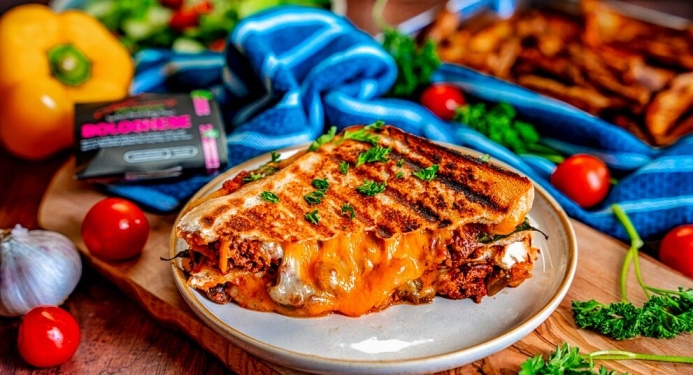 Bolognese Toastie
Prep: 2 mins
Cooking: 15 mins
Total: 17
Serves: 4
Per serving: 685 kcal
What better way to use up any left over JD Seasonings bolognese? or maybe you don't
fancy the pasta at all? This insanely tasty toastie is the way to go! You can find the
recipe for the Bolognese here on our website, made with our delicious Bolognese Kit.
Ingredients
300g Leftover, made with JD Seasonings Bolognese Kit

8 x Slices of white bread

8 x Slices of reduced fat cheddar
60g Red Leicester

40g Baby spinach

2 x Tbsp tomato puree

Low calorie cooking spray
Method
STEP 1:
First, heat up the Bolognese leftovers for 3 to 4 minutes in the microwave, until piping
hot throughout.

STEP 2:
Spread the tomato puree over four slices of bread.

STEP 3:
Add the spinach to the other four slices, followed by spoonfuls of the Bolognese and
two slices of cheddar and 15g red Leicester per toastie.

STEP 5:
Add the tomato puree covered slice on top and cook in a toastie
maker or grill for around 3 minutes on each side, until the bread has toasted and cheese has melted.

STEP 6:
Slice in half and serve.

ENJOY!!!