Recipes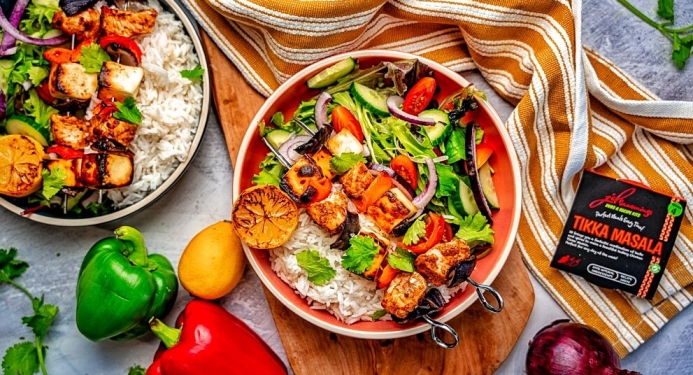 Chicken Tikka & Paneer Skewers
Prep: 15 mins
Cooking: 20 mins
Total: 35 mins
Serves: 4
Per serving: 230 kcal
These Chicken Tikka & Paneer Skewers, made with our tikka masala kit, are so simple to make and make a great addition to your BBQ too!
Ingredients
1 x Pot of JD Seasonings Tikka Masala Kit
4 x Chicken breasts, diced into large chunks
2 x Peppers, cut into large chunks
200g Paneer cheese, cut into large chunks
1 x Red onion, cut into large chunks
6 x Tbsp of fat free greek yoghurt
1 x Lemon (juice)
Method
STEP 1:
Mix the yoghurt, lemon juice and full pot of JD Seasonings tikka masala and pour over the chicken, stirring until all the chicken is coated. Cover and refrigerate for at least 4 hours.
STEP 2:
Load up your skewers with the chopped veg, paneer and marinated chicken.
STEP 3:
Cook on the grill or BBQ, turning frequently, until the chicken has cooked through.
ENJOY!!