Recipes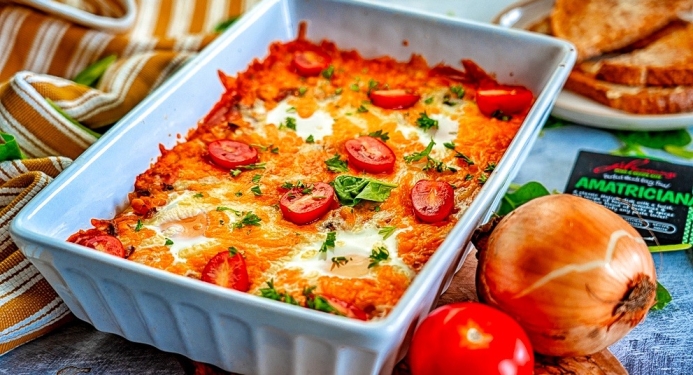 Breakfast Bake
Prep: 10 mins
Cooking: 35 mins
Total: 45 mins
Serves: 4
Per serving: 393 kcal
Start your day with this protein-packed, filling breakfast, made with our delicious Amatriciana Kit.
Ingredients
1 x Pot of JD Seasonings Amatriciana Kit
6 x Low fat sausages
1 x Onion, diced
25g Baby spinach
80g Baby plum tomatoes, halved
2 x Tins of baked beans
4 x Eggs
60g Red Leicester
60g Reduced fat cheddar
100g Mushrooms, sliced
Parsley (to serve, optional)
Low calorie cooking spray


Method
STEP 1:
Slice the sausages and fry with the diced onion and mushrooms in low calorie cooking spray for 10-15 minutes, until cooked.
STEP 2:
Add in the Amatriciana kit and mix until everything is coated, then pour in the beans and combine.
STEP 3:
Add the spinach and cook for around 3 minutes, until wilted.
STEP 4:
Pour the mixture into an oven-proof dish. Make four wells with a spoon before cracking the eggs into them.
STEP 5:
Sprinkle the cheese over the top and carefully place the tomatoes on top. Add some salt and pepper, then bake at 180° for 20 minutes.
ENJOY!!