Recipes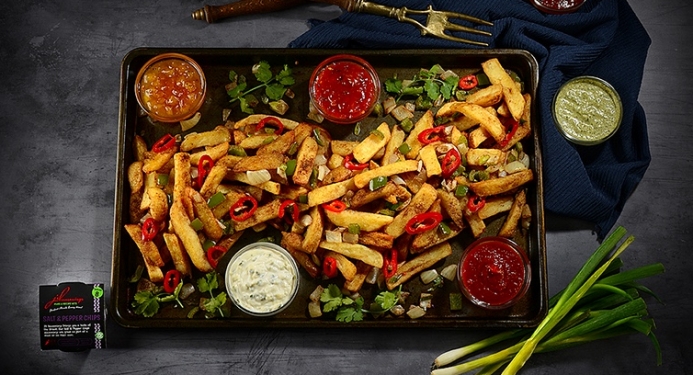 Salt & Pepper Chips
Prep: 10 mins
Cooking: 56 mins
Total: 1 hour 6 mins
Serves: 4
Ingredients
1kg potatoes
1 onion, diced
1/2 green pepper, deseeded & diced
2 spring onions, sliced
1-2 fresh red chillies (optional) thinly sliced
Low calorie cooking spray
Method
Preheat oven to 200°C / gas mark 6
STEP 1:
Peel the potatoes and cut into 1cm thick chips.
STEP 2:
Bring a pan of water to the boil.
Add the chips and par boil for 5 minutes then drain.
STEP 3:
Spray a baking tray with low calorie cooking spray and spread the chips out making sure to leave a small gap between each chip for even cooking.
Place in the centre of the oven and cook for 35-40 minutes, turning once half way through cooking.
STEP 4:
Spray a wok or deep frying pan with low calorie cooking spray and place of a medium heat.
Add the Onions, pepper and spring onions cook for 5 -7 minutes.
Add the chillies (if using) and cook for another minute or 2.
STEP 5:
Add the chips then sprinkle over half the pot of JD Seasonings salt & pepper seasoning, mix well then add the rest of the pot.
Toss the chips in the wok for a minute or 2 and serve.
ENJOY!