Recipes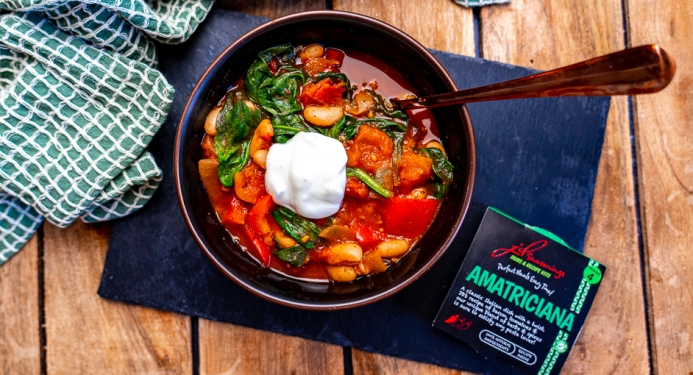 Tuscan Tomato & Bean Soup
Prep: 10 mins
Cooking: 38 mins
Total: 48 mins
Serves: 4
Per serving: 184 kcal
Colder weather just calls for bowls of warming, chunky soup packed with hearty vegetables. This delicious Tuscan Tomato & Bean combination, made with our Amatriciana Kit, really hits the spot.
Ingredients
1 x Pot of JD Seasonings Amatriciana Kit
4 x Garlic cloves, crushed
1 x Tbsp sweetener
1 x Tin of chopped tomatoes
1 x Onion, diced
1 x Red pepper, chopped
1 x Tin of cannelloni beans, drained
220g Baby plum tomatoes, halved
5 x Large tomatoes, chopped
300ml Vegetable stock
100g Baby spinach
Low calorie cooking spray
4 x Tbsp reduced fat crème fraice (optional, to serve)
Method
STEP 1:
In low calorie cooking spray, fry the onion and garlic for 3 minutes.
STEP 2:
Add the fresh tomatoes and red pepper and mix well.
STEP 3:
Pour in the Amatriciana Kit and stir until everything is coated.
STEP 4:
Next, add the chopped tomatoes and stock, along with the cannelloni beans. Simmer for 20-25 minutes, until thickened.
STEP 5:
Add the spinach and simmer for a final 5 minutes, until wilted.
STEP 6:
Pour into your bowls and top with a dollop of crème fraiche, if desired.

ENJOY!!!