Recipes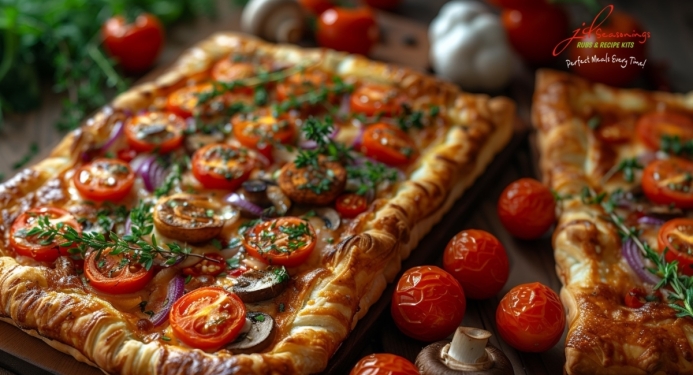 Puff Pastry Veggie Pizza Tart
Prep: 15 mins
Cooking: 20 mins
Total: 35 mins
Serves: 6
Per serving: 310 kcal
If you're calorie counting, you don't need to be scared of puff pastry. Sometimes it's better to have a bit of what you fancy, and the lighter supermarket puff pastry options can easily be worked into your allowance. This puff pastry tart using our Amatriciana kit makes for a delicious meat-free meal, perfect with a big salad and chips!
Ingredients
1/2 x Pot of JD Seasonings Amatriciana Kit
1 x Packet of Light Puff Pastry
1 x Tbsp tomato puree
1/2 x Tbsp passata
120g Reduced fat mozzarella
1 x Beaten egg
1 x Splash of balsamic vinegar
1 x Tsp of sweetener
Toppings of your choice – we've used mushrooms, green peppers, red onion and sweetcorn
Method
STEP 1:
Move your puff pastry onto an oven-proof tray and baking paper, sprayed with low calorie cooking spray.
STEP 2:
Score a 2cm border around your puff pastry and prick the centre with a fork. Brush with beaten egg, then pop into the oven at 180° for 5-10 minutes.
STEP 3:
Make your pizza sauce by combining the tomato puree, passata, sweetener, balsamic vinegar and half a pot of JD Seasonings Amatricana Kit.
STEP 4:
Remove the pastry from the oven and add your pizza sauce, mozzarella and toppings. Add more beaten egg to the border if needed, and return to the oven for around 15 minutes, until golden and the cheese has melted.
STEP 5:
Leave to cool for a few minutes before slicing into six, and serve however you like!
ENJOY!!