Recipes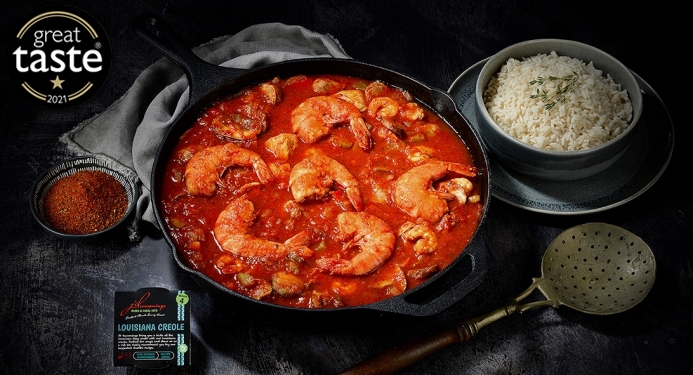 Gumbo
Prep: 15 mins
Cooking: 45 mins
Total: 1 hr
Serves: 4
Per serving: 319 kcal
A true taste of the American deep south made with our amazing louisisana Creole to create this classic Gumbo recipe
Best served with boiled rice.
Ingredients
1 pot of JD Seasonings Louisiana Creole
2 chicken breasts, fat removed, cut into cubes
6 low fat Sausages
190g raw king prawns
2 celery sticks, sliced
1 large white onion, diced
1 red pepper, diced
200g mushrooms, thickly sliced
3 garlic cloves, finely chopped
2 x 400g tinned chopped tomatoes, blitzed with a hand blender/food processor
400ml vegetable stock
2 tbsp Worcestershire sauce
Low calorie cooking spray
Method
STEP 1.
Spray a frying pan with low calorie cooking spray and place over a medium heat add the sausages and cook until brown. Remove the sausages and set aside to cool. Once cooled slice the sausages about an inch thick.
STEP 2.
Spray a casserole pot with low calorie and gently fry the onions and celery 3 to 4 minutes then add the red pepper and mushrooms and fry for another 3 to 4 minutes.
STEP 3.
Add the chicken and cook until browned then add the garlic and cook for 1 to 2 minutes.
Now add the Worcestershire sauce, veg stock and the full pot of JD Seasonings Louisiana creole and stir well.
STEP 4.
Stir in the blitzed tomatoes and add the sliced sausages, cover and simmer for about 30 minutes stirring occasionally.
STEP 5.
Remove the lid and add the king prawns, stir well and cook for a further 10 to 15 minutes.
Serve with boiled rice.
Enjoy!