Recipes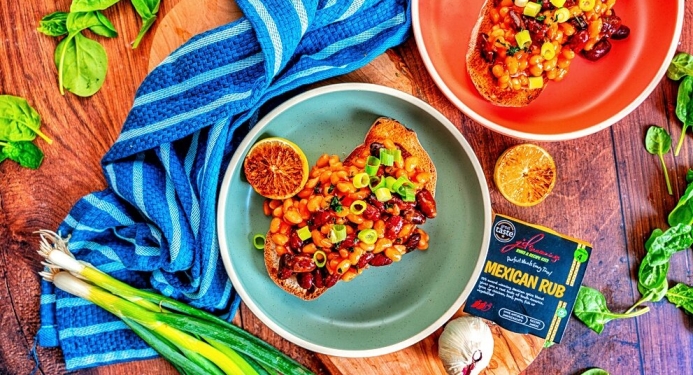 Mexican Beans on Toast
Prep: 5 mins
Cooking: 10 mins
Total: 15 mins
Serves: 4
Per serving: 410 kcal
If you fancy spicing up your breakfast, this Mexican beans on toast recipe, made with our Mexican Rub, is one to try! It's full of protein, budget-friendly and such a simple way of upgrading this classic student-staple!
Ingredients
1/2 x Pot of JD Seasonings Mexican Rub
1 x Tin of kidney beans, drained
2 x Tins of baked beans
2 x Spring onion, sliced
2 x Garlic cloves, crushed
8 x Slices of bread of your choice
Method
STEP 1:
Fry off the garlic for a few minutes in low calorie cooking spray.
STEP 2:
Add in the baked beans, kidney beans and our Mexican Rub and cook for 5 minutes or so, until hot.
STEP 3:
Pop your bread in the toaster.
STEP 5:
Top your toast with the Mexican beans, sprinkle over the spring onion and serve!
ENJOY!!